New York Giants star receiver Odell Beckham Jr. is all over the web. He took the mound at a charity softball game for St. Jude Children's Research Hospital this past Friday and unleashed pure hear with a softball. The pitch came in at a reported 90 mph. Not too bad for someone who made, arguably, the greatest catch in NFL history.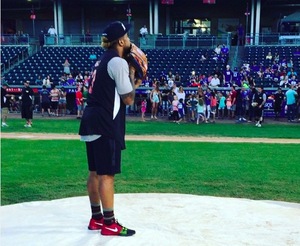 The pitch was impressive, but even more impressive is the fact he now has an offer to play professional baseball for the Rockland Boulders of the Independent Can-Am League.
There is absolutely no doubt that he's got talent. He's a gifted athlete on the football field and probably could lace up the spikes and perform admirably on the field. Most professional athletes are so good at what they do, that despite being a professional in one, could jump in to another sport and let their talent take them further than most could think.
Rockland Boulders pitching coach, Bobby Jones, who has spent his share of time in the professional game shared his thoughts about Beckham and his talents.
"We were very impressed with Odell's mechanics in the video," said Bobby Jones, Boulders Pitching Coach. "He's shown his ability to catch a ball on the gridiron and after seeing his prowess on the mound, I am optimistic that he has the tools to develop into a quality pitcher"   said Jones, who played in Major League Baseball with the Mets, Red Sox, Padres and Rockies.
We all know that Beckham is going nowhere near a baseball field, but the hype and the thought of it gets us all excited. Is he the next Deion Sanders? You never know!