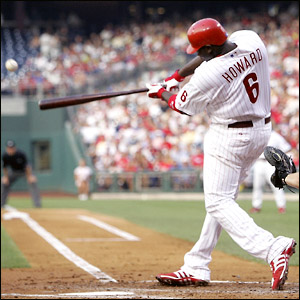 Arguably, the face of the Philadelphia Phillies franchise, Ryan Howard is now-on average-the second highest paid player in the MLB, next to New York Yankees third baseman and arguably the game's greatest, Alex Rodriguez.
Is Howard worth a guaranteed $25 million a season?
The numbers suggest yes.
Since 2005, Howard has led the MLB in home runs (222) and RBIs (650).  According to mlb.com, Howard is one of only four players in history with four consecutive 40 home run and 130 RBI seasons, a group that includes Babe Ruth, Ken Griffey Jr., and Sammy Sosa.
Howard's contract now extends through to the 2017 season.  In plain English, five years, $125 million with a club option for a sixth that can elevate the contract to $138 million.
It will be interesting to see if after another five years Howard is still hitting at this record pace, or if the Phillies jumped the gun.
But isn't that what makes this game great?!
Just to throw this out there, how much is Albert Pujols worth now?
Devon Teeple is an author for the Business of Sports Network, which includes the Biz of Baseball, the Biz of  Football, the Biz of Basketball and the Biz of Hockey.   He is a former professional baseball player with the River City Rascals & Gateway Grizzlies. Devon is also available for hire or freelance opportunities.
Devon is a former student within Sports Management Worldwide's Baseball General Manager Class. Devon is the founder of The GM's Perspective and is a intern with The Football Outsiders and contributor with the Plymouth River Eels.
Currently, Devon is a Branch Manager at a financial institution in Southern Ontario Canada.  He can be reached at devon@thegmsperspective.com , thegmsperspective@yahoo.com or devon@businessofsportsnetwork.com
Follow The GM's Perspective on