Before LeBron James there was Schea Cotton…
Cotton was destined for NBA stardom. Unfortunately life doesn't always play out the way it should. In hindsight, maybe it was always supposed to be that way.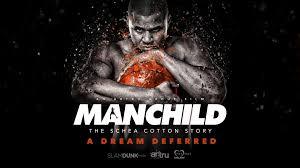 He was nationally known before he was in high school and at 15 was in Sports Illustrated. It was certain that Cotton was was going pro, but an investigation between the NCAA and ETS over SAT's delayed his entrance into college by over two years. The automatic was derailed. Cotton never appeared in the NBA, but 10 years of professional basketball overseas is nothing to dismiss.
Some may look at that as a failure. But he has done more in the game of basketball that most could ever imagine. His is a story of triumph, heartbreak, and redemption. It's now the template others can look at for guidance in their own career.
With little regret, he's now giving back to the game in the most unselfish way possible; with knowledge. The myth finally turned into reality when "Manchild" was released in June of 2016.
The GM's Perspective: Obviously your career went in a lot of different directions, but can you give the readers, and those unaware of your background, what the "Manchild" documentary is about and what you want viewers to take away after watching it?
Schea Cotton: Manchild is about my story. It's about my life as a basketball player and my life in and around the sport. It deals with family, hardship, deception, and betrayal. The documentary is not just about basketball, it's a humanitarian story. Everyone who sees it is really proactive. They want to help and get on board.
We've had a few screenings and a lot of prominent people like Mitch Kupchak, general manager of the Los Angeles Lakers was in attendance. He was very supportive, so we're very excited.
GMs: Comments from the film include saying that you were LeBron James before there was a LeBron James and your name is mentioned alongside greats like Kobe Bryant. Players like Paul Pierce, Baron Davis, and Elton Brand hold you in the highest regard. What does that mean to you after dominating the game in your teens over 20 years ago?
SC: It's a blessing and just shows that I did my job when I played. I was the elite and one of the best at one point. In 1995 I was number 1 when guys like Kobe Bryant and Stephon Marbury were around. We had a slew of names and out of those guys I was at the top. My peers commented on my talent on their own. For them to give these interviews and say that is really special. It's a blessing to be in this position after the turmoil I've been through as well as what my family went through. I lost my father two years back when we were completing the project. This is a heartfelt piece and I think people who see this will be touched and inspired.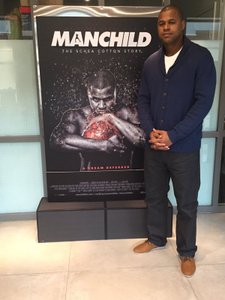 GMs: Obviously you played many years professionally, but never made it to the NBA. Do you ever think about the what if's or has all of this made you a stronger person?
SC: It's something I used to think about for years after the fact, but I buried the hatchet. I have peace now and have no desire to play, but I do a lot for charities and have my own AAU team (Manchild Elite) now (13 and under) and they're pretty competitive. I'm in a privileged position now where I can give everything I've experienced back to my kids and help mold and mentor them all the way up through college and beyond.
There's failures and successes, but it's how we handle the failures that will help us determine our outcome and future. Everyone does well when they're winning, but when you hit some adversity that's what tests who you really are. I've been tested and I've passed those tests with flying colours. I just thank God that I have a second chance to make things right.
GMs: You're running your own program now and the focus is of course, basketball, but do you focus on life outside of the game when running your camps?
SC: Most definitely. Typically, we even do it with my AAU team. I have a national squad so we travel, to various places, including a trip to Toronto in June this year. I'm excited about what we're bringing to the forefront for our kids. When we travel we focus on etiquette, how to interact, how to conduct yourself at restaurants, how to use your inside voice, conducting yourself professionally amongst other teams, and sportsmanship. We even discuss winning and losing with grace. These are all important aspects of life, it's not just about basketball. It's the game of life being taught through the sport.
GMs: Not many would factor that in. You've lived through it and you've seen the high's and the low's…
SC: I was a McDonald's All-American and received all these accolades at an early age (Sports Illustrated at 15) that most people would never get. Even players going to the NBA today, most of them don't get SI articles! You have to be a certain type of player to demand that type of media, especially back then. When that happened everything changed. Once I became the poster boy, it was as if I was a marked man. At 15 years old, I had no privacy. Could you imagine a kid growing up in the Los Angeles area who just wanted to be good at a sport becomes the top guy and now everyone is gunning for me on the court?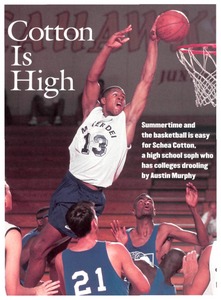 GMs: Your name will forever live in basketball lore, but what do you think current players can take away from your story?
SC: If it could happen to me it could happen to anyone. And that's why people need to take this seriously. You could be so good that it could be intimidating. If you don't have the right pieces around your life can become very difficult. But you never know until it's tested.
You have less than a one percent chance of getting to the NBA. You have a better chance of winning the lottery. Only the elite make it, but I want my kids to get to college so that they have a fighting chance at life and to be able to provide for their families. If you put all your eggs in one basket and it doesn't work out you can become demoralized. And that's what we want to avoid with our kids.
GMs: What would be one piece of advice for a young and up and coming player?
SC: I stress the importance of work ethic and being a good person and a person of integrity. There's so many great players across the country, but what separates one from the next is the little things; showing up on time, staying late, being coachable, being the hardest worker and leading by example.
For those looking for more information on Schea, please visit Manchild: The Schea Cotton Story and https://scheacottonmanchild.com. And those looking to connect on social media, you can follow him on Instagram & Twitter @scheacotton @manchilddoc, Facebook @scheacotton, and Linkedin @scheacotton