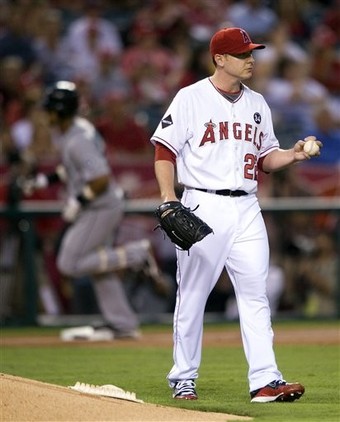 Scott Kazmir, it seems, has been around forever.
Moneyball introduced the world to Kazmir, and he since has been at the head of the class.
Chosen 15th  overall by the New York Mets and then signing for $2.15 million allowed Billy Beane to select Nick Swisher.  Kazmir went on to lead the resurgent Tampa Bay Rays into their lone playoff appearance as the "veteran" ace of the staff.
It appears that being the ace in your early 20s, comes with its problems.
Kazmir's M.O. has always been, all the potential, but tends to walk too many.
It now seems that this pitcher might be breaking down after six-plus seasons and a number of lingering injuries.
Beginning 2010 on the DL is the least of Kazmir's worries.
It seems that things are bound to get worse before they get better, and in baseball, what always tells the truth?  Numbers.
Kazmir is not flashy,  but works hard, and gives his all every time on the mound. Then again,  there comes a time when a reduced workload or a bullpen assignment may benefit the player as much as the club.
His strikeouts per nine innings have been in a steady decline since his brief intro in 2004 (11.07).  In '09, Kazmir hit career lows with 7.15 K/9 while batters hit .264 against him (also a career high).
Another nasty trend is the rise in walks, which are topping out at nearly four a game (3.67).
The signs are evident that his career as an Los Angeles Angel could be in jeopardy and in general if his numbers cannot make a drastic improvement.
His walks have always been in question, but Kazmir always had that mid 90s fastball that could get him out of trouble, times they do change, and with it  comes a drop in velocity.
A fastball, change-up, and slider are more than enough to get by, except a two-mph reduction on each pitch since 2004, healthy or not, cannot be compensated for.
Nine wins, eight losses and an average of 145 innings appear to be the norm,  though in the end the numbers once again tell the story.
Kazmir's O-Contact % (percentage of times a batter makes contact with the ball when swinging at pitches thrown outside the strike zone) jumped nearly 20 percent from 2008, a scary trend when thinking about how this can happen.
Contributing factors;
Over-compensating for lack of velocity
pitching to the corners
the inability to locate his change-up
a lack of aggressiveness
Whether or not any of that is true is up for debate, but one thing is for certain: Batters are not fooled by his pitches in the strike zone, or out of it for that matter, as evidenced by an all-time high in Contact % (total percentage of contact made when swinging at all pitches) 81.8 percent, compared to 2008's 75.5 percent.
As a former professional, I had the opportunity to play, albeit, for two months, when my college days were over, and was very aware of the pressure, and the struggles that one faces when finally hitting that pinnacle in your career.
I am routing for Kazmir to have a turnaround campaign in '10.  We can only wait to see if Kazmir has hit his ceiling or if these injuries that have plagued him over the past few seasons, contributed to the decline.
When eligible to come off the disabled list, the former number one starter in Tampa-now the number four in Anaheim-is looking to make his season debut against the reigning World Series champion, New York Yankees on April 15.
Devon Teeple is an author for the Business of Sports Network, which includes the Biz of Baseball, the Biz of  Football, the Biz of Basketball and the Biz of Hockey.   He is a former professional baseball player with the River City Rascals & Gateway Grizzlies. Devon is also available for hire or freelance opportunities.
Devon is a former student within Sports Management Worldwide's Baseball General Manager Class. Devon is the founder of The GM's Perspective and is a intern with The Football Outsiders and contributor with the Plymouth River Eels.
Currently, Devon is a Branch Manager at a financial institution in Southern Ontario Canada.  He can be reached at devon@thegmsperspective.com , thegmsperspective@yahoo.com or devon@businessofsportsnetwork.com
Follow The GM's Perspective on