Vin Mazzaro was one of the Moneyball originals. Not in the Nick Swisher days, but he did make headlines when the Oakland Athletics drafted him in the 3rd round of the 2005 MLB June Amateur Draft. They diverted away from their strategy of picking only college pitchers and took the highly touted high school prospect.

He's no stranger to the game. Entering his 14th professional season, Mazzaro won't be surprised when he steps on the mound for the Long Island Ducks. He's played the role of starter in the major leagues but has also been a middle relief guy.
Arguably his best season came in 2013 as a member of the Pittsburgh Pirates. He went 8-2, appeared in 57 games (73.2 innings) and posted a 2.81 ERA. That Pirates pen was solid with Jason Grilli leading the club with 33 saves and Mark Melancon coming into his own with 16 saves and a minuscule 1.39 ERA.
With the amount of talent in the pen, Mazzaro cleared waivers and spent the next few years bouncing between clubs and sporadic assignments at the MLB level.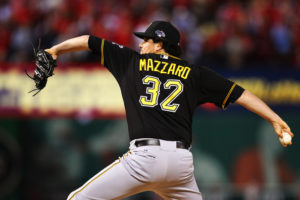 After a brief stint with the Reds in 2017 he was granted free agency and his Independent odyssey began.

2017 saw Mazzaro sparkle in three appearances with the Somerset Patriots (6 innings/1 hit), but the pitcher that everyone was high on in the beginning was lights out for the New Jersey Jackals in 2018.

In 34 games, Mazzaro led the team in saves with 10 and was second on the team in ERA at 1.76. His .0935 WHIP was a career low and 8.6 SO9 was well over his career average of 6.6.

By signing with the Ducks, he's prime to make another run at the big time. The Atlantic League is more than likely the most talented of all Indy League's and he'll receive all the attention necessary if he puts up the numbers he's capable of.