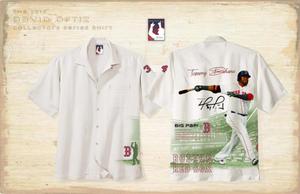 Tommy Bahama's 2016 MLB "Collector's Edition" shirt features future Hall of Famer David Oritz. The three-time World Champion and nine-time All-Star's final season will be honoured in style as only Tommy knows how.
Doug Wood, Tommy Bahama CEO, is thrilled with the latest edition to their collection. The relationship with Major League Baseball only continues to grow stronger with such a stunning product.
"We are so excited to be able to develop a special 'Collector's Edition' shirt honoring David Ortiz's amazing career," said Doug Wood, CEO of Tommy Bahama. "It's projects like this one, that have made our long-standing partnership with Major League Baseball so rewarding."
The shirt will feature Ortiz's classic follow through immortalized on print with historic Fenway Park in the background. Approximately 600 of these shirts will be produced with 20 percent of the sales going towards the David Ortiz Children's Fund
The Tommy experience continues when they will host a special event at the Tommy Bahama Restaurant, Bar & Store in Naples, FL. The Boston Red Sox legend's attendance is expected and he will likely participate in an exclusive autograph session.
"I'm excited to announce the partnership with my guys at Tommy Bahama," said David Ortiz. "The event and these unique shirts are a great way to kick off my final season in the Major Leagues."
To be featured on one of these limited edition collector's shirts is impressive enough, but Ortiz becomes the first active player to be showcased. Other limited edition prints include Mickey Mantle, Willie Mays, and Jackie Robinson. Truly a remarkable feat.
You can see more of Tommy Bahama and their MLB Collection here.