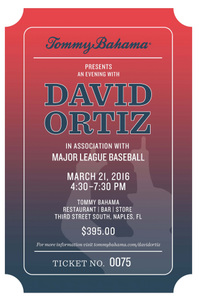 On March 21, at the Tommy Bahama, Bar & Store in Naples, FL., Tommy Bahama presents "An Evening with David Ortiz"
David Ortiz is a future Major League Baseball Hall of Famer. As The guy in Boston for the past 13 years, he's the epitome of success. His numbers speak for themselves; 503 home runs (27th all-time), 1641 RBI, .547 SLG, .925 OBP, nine-time All-Star, five-time Silver Slugger, three-time World Series Champion, 2013 World Series MVP, and all-time leader in MLB history for home runs (447), runs batted in (1,442), and hits (2,023) by a DH.
With Tommy's strong relationship with MLB, and with the recent release of their new addition to the MLB collection featuring Ortiz, this special evening is a can't miss for any fan.
"I'm excited to announce the partnership with my guys at Tommy Bahama," said David Ortiz. "The event and these unique shirts are a great way to kick off my final season in the Major Leagues."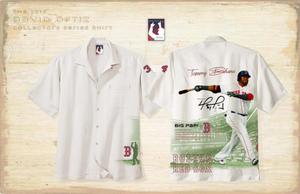 With only 100 available tickets for the event, there's no doubt they will go quickly. With your ticket you will have the chance to meet "Big Papi", have your photo taken and receive an autographed baseball. In addition, former MLB player and current analyst, Mark DeRosa will host a Q&A session with Ortiz to discuss his career.
Proceeds from a silent auction of signed sports memorabilia at the event, as well as 20% of sales that day from the Tommy Bahama and Relax stores in Naples will be donated to the David Ortiz Children's Fund. If you are interested in meeting a future Hall of Famer and taking part in an unforgettable evening, tickets are $395 and can be purchased by calling (239) 643-6889.