Tommy Bahama, known for its support of the island lifestyle and relaxed fashion sense, has also been a big supporter of Major League Baseball and its roots. For over 20 years, Tommy has been one of the most forward thinking companies, creating a brand of clothing that any man, woman or child could enjoy. That forward thinking has also been a big reason why they are involved in so many projects. You just never know what's next.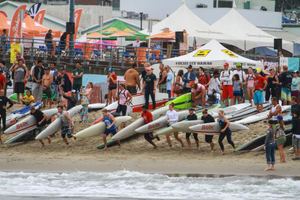 On June 6, 2015, Tommy is the proud sponsor of the 6th Annual Paddleboard Race & Ocean Festival. Going back to the 1930's, the Santa Monica Pier's Manoa Paddleboard Club (the first of its kind) was where the sport could thrive. Santa Monica became the hub of paddleboarding where races became the norm.
The event will feature thousands in attendance and hundreds taking part in a multitude of stand up paddleboard races, dory races and a thrilling ocean swim. One of the most anticipated events is the Tommy Bahama Paddlecross Cup, a short sprint race out and back through the surf.
In addition, the Festival will showcase live music, hula dancers and everything that made the Pier in the 1930's what is was. This year Paddleboard legends Preston "Pete" Peterson and Dorothy "Dottie" Hawkins will be honoured with an award being named after them.
Not only focusing on the history of the Pier and the people that created the legend, it will also feature family friendly free time (10:30am – 1:30pm). This will also benefit Heal the Bay, and environmental nonprofit dedicated to cleaning Southern California's coastal waters and watersheds.
Needless to say, Tommy's Paddleboard Festival is a one of a kind celebration to honour a time long ago, but to also build a tradition that could spark its resurgence for years to come.