Tommy Bahama, an island-inspired lifestyle brand known for its summer wear, and laidback lifestyle is proud to announce that they have teamed up with the NFL for the third consecutive year on an officially licensed collection of premium sportswear for the 2015 NFL season. This is not the only sports-minded collection that followers of the branch can choose from. Major League Baseball has teamed up with Tommy multiple times showcasing the best the MLB has to offer. From the All-Star Game to featuring the game's greats, proud supporters have plenty to choose from in any season.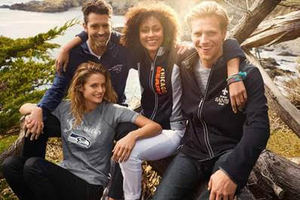 Knowing how devoted fans are about the NFL and their favourite teams, they also have a fierce appreciation about their clothes, says Rob Goldberg, Executive Vice President of Marketing at Tommy Bahama.
"We understand how passionate football fans are about their teams and our new NFL collection connects them to all their favorites. We look forward to being a part of another great football season and showing NFL fans how to relax in style."
The NFL Premium Sportswear Collection, which can be seen here tommybahama.com/mensNFL, tommybahama.com/womensNFL, is an eclectic variety of gear that everyone can love. From a Ben & Terry Half-Zip, a Firewall Polo, Goal Line Full-Zip Jacket, to tee's and vests, the dedication to their craft that both Tommy Bahama and the NFL continue to produce is evident in this partnership.
Enjoy the gear and enjoy the NFL and the road to Super Bowl 50.
Devon is the Founder and Executive Director of The GM's Perspective. He is a former professional baseball player with the River City Rascals & Gateway Grizzlies. Currently, Devon is a Manager at a financial institution in Northern Ontario Canada, and can be reached at devon@thegmsperspective.com. You can follow The GM's Perspective on twitter and Facebook. His full bio can be seen here