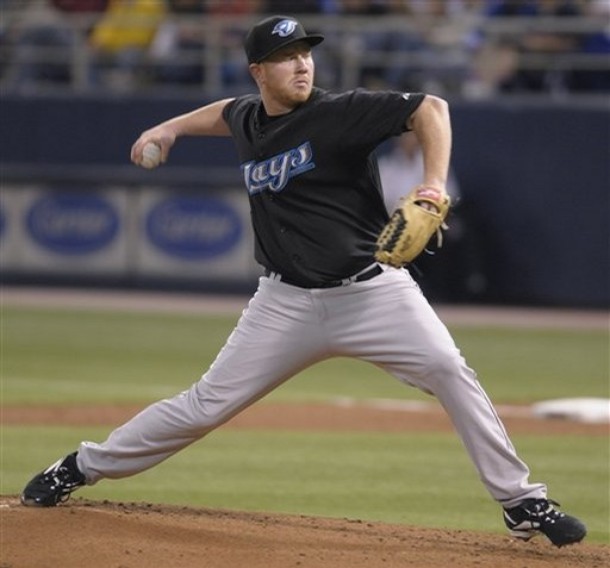 As a former batboy for the Tampa Bay Rays, baseball has been a lifelong goal for Jesse Litsch.
Originally drafted by the Colorado Rockies in the 37th round of the 2003 amateur draft, you can say that Litsch fell into the Toronto Blue Jays lap.
Not signing with the Rockies was probably the best thing for this former South Florida Community College Panther.
Instead of dealing with the thin air of Colorado, Litsch had his chance to develop in the friendly confines of the Rogers Centre.
Litsch has been nothing more than beneficial to the Jays since his Major League call up in 2007.
All he did was solidify a rotation spot for the 2008 season and compile a solid 13-8 record with a respectable 3.58 ERA.
Despite rarely touching 90 mph on the radar gun, Litsch is able to get outs while throwing a combination fastball / cutter, nearly 70 percent of the time.
Even more amazing is that 91.5 percent of the time Litsch throws any pitch within the strikezone (2008), the ball is put in play.  Numbers that high could seemingly mean disaster, but in the end it tells you that Litsch, who has less than three full years of  MLB experience, knows how to play this game, and can get hitters out by finessing the strike zone, while keeping the ball in play and letting his fielders do the work.
Unfortunately, 2009 ended prematurely for Litsch, who complained of forearm pain that ultimately led to Tommy John Surgery.
Over one full season since Litsch made his final start, it appears that he may finally be back on the road to a full recovery.
All signs are pointing to a return to the Jays, mid June at the very least, as newly appointed GM Alex Anthopolous wants all players recovering from Tommy John Surgery to rehab for at least 12 full months.
Litsch is set to make his home debut May 16 in Dunedin against the Pittsburgh Pirates affiliate, Bradenton Marauders.
His first rehab assignment scheduled for May 11 will be on the road against the Palm Beach Cardinals.
Devon Teeple is an author for the Business of Sports Network, which includes the Biz of Baseball, the Biz of  Football, the Biz of Basketball and the Biz of Hockey.   He is a former professional baseball player with the River City Rascals & Gateway Grizzlies. Devon is also available for hire or freelance opportunities.
Devon is a former student within Sports Management Worldwide's Baseball General Manager Class. Devon is the founder of The GM's Perspective and is a intern with The Football Outsiders and contributor with the Plymouth River Eels.
Currently, Devon is a Branch Manager at a financial institution in Southern Ontario Canada.  He can be reached at devon@thegmsperspective.com , thegmsperspective@yahoo.com or devon@businessofsportsnetwork.com
Follow The GM's Perspective on