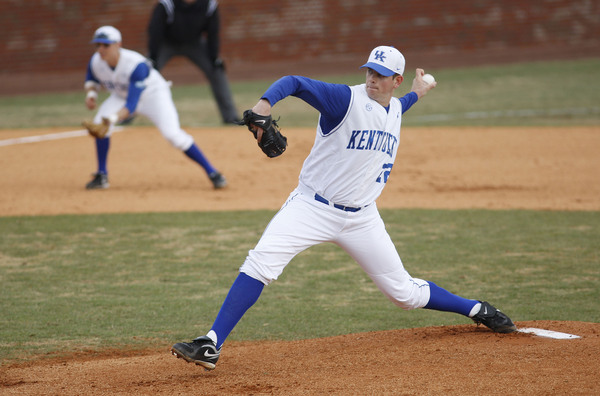 It is not often that an independent league signing makes headlines, but in this case, I think it does.
James Paxton, former University of Kentucky Wildcat has signed with the Grand Prairie AirHogs of the American Association.
Many draft picks get publicity for signing bonuses, 100mph fastballs, or who their agent is, (Paxton is represented by the Boras Corporation).  Unfortunately, for Paxton his claim to fame is for something other than athletic ability and statistics.
Paxton who hails from Ladner, British Columbia, posted a career 11-5 record and ERA of 4.91 and compiled 168 strikeouts over 148.1 innings pitched in his three years.
The NCAA suspended Paxton amid the rumors that the Toronto Blue Jays and Paxton's agent could not come to an agreement, thus, the inability of the Jays signing their 37th overall pick.
For more information on this, click here to read the article from the Globe and Mail
According to NCAA Rules
"student-athletes are ineligible for participation in an intercollegiate sport if they have ever agreed (orally or in writing) to be represented by an agent for the purpose of marketing their athletics ability or reputation in that sport"
Paxton was then informed by the University's compliance officer, that they wanted to interview him amid all the speculation circulating.
According the Baseball America, Paxton then sued the school, "charging that athletic officials threatened to bar him from playing if he did not agree to meet with NCAA investigators, even though he was not told what rules he was accused of violating".
Paxton's lawyer commented on the allegations;
"It illegally and unethically seeks attorney-client privileged information, and it misstates the NCAA's bylaws and what is required of student-athletes, who are not required to disclose this level of information, sign releases, etc., without any probable cause or due process,"
Unfortunately the meeting never took place as Paxton recently announced that he was not going to meet with Kentucky officials, ultimately foregoing his senior season, and in the process possibly hurting his draft status in '10.
"The University of Kentucky is very disappointed in James Paxton's decision to not meet with the NCAA about a potential amateurism issue," the school said in the statement. "Due to the possibility of future penalties, including forfeiture of games, UK could not put the other 32 players of the team and the entire UK 22-sport intercollegiate athletics department at risk by having [Paxton] compete."
This is not first time a draft pick has taken the independent route.
The most recent being Luke Hochevar and Max Scherzer, (both Boras clients), used their time in the American Association (Fort Worth Cats) to vault their draft status, despite pitching less than five games each.
Whether or not Paxton can make a successful jump to the pros is only a matter of time; however, one thing is for certain, the American Association is the place to be.
"Ventura Sports Group, Managing Partner, Mark Schuster noted, "Our approach with these young players is to advance their career without hesitation. Over the last two seasons affiliated MLB has purchased the contracts of 10 players from Grand Prairie."
On a side note, there is also another Canadian connection in this story.
Paxton joins former Vancouver Canadians GM, Andrew Seymour who took on the role of Vice-President in early October.
Devon Teeple is an author for the Business of Sports Network, which includes the Biz of Baseball, the Biz of  Football, the Biz of Basketball and the Biz of Hockey.   He is a former professional baseball player with the River City Rascals & Gateway Grizzlies. Devon is also available for hire or freelance opportunities.
Devon is a former student within Sports Management Worldwide's Baseball General Manager Class. Devon is the founder of The GM's Perspective and is a intern with The Football Outsiders and contributor with the Plymouth River Eels.
Currently, Devon is a Branch Manager at a financial institution in Southern Ontario Canada.  He can be reached at devon@thegmsperspective.com , thegmsperspective@yahoo.com or devon@businessofsportsnetwork.com
Follow The GM's Perspective on