Behind the glitz and the glamour of the wrestling business are the people who have worked for years and put countless hours in to their craft.
PJ Polaco, most affectionately known in the wrestling world as Justin Credible, was a multi-time champion in Extreme Championship Wrestling and World Wrestling Entertainment. But behind the ultra-confident persona was a man struggling to hold it together.
After nearly 30 years in the ring, Credible's still wrestling and putting smiles on the faces of those in the crowd. This interview is more than just who is the best performer and who won the most titles, it's about the ensuring those following in your footsteps take the industry to new heights and take care of themselves in the process.
Polaco admits he made mistakes, but what person doesn't? The only thing he can do is support those who care for him and continue to better himself in and out of the squared circle.
That's not just the coolest. Not just the best. That's Justin Credible!
The GM's Perspective: For those unfamiliar with PJ Polaco or "Justin Credible", how did you get involved in wrestling?
Justin Credible:  I was a regular kid and I was a fan. One day I saw a wrestling magazine at the grocery store I was working at part-time and it said "Dare to be great – Hart Brothers Pro Wrestling School". I called, I saved up the money, got the guts to do it, and off I went.
GMs: You've really done it all. ECW Heavyweight Champion, 2-time ECW Tag Team Champion (Lance Storm/Impact Players), and eight-time WWE Hardcore Champion. That's no joke. Of all those accolades, which one was the highlight of your career?
JC: The highlight would be the ECW Heavyweight Championship for many reasons. We were right up there at the time revolutionizing the industry as the number three promotion. We were running regular PPV's and on television. Being in that spot meant that Paul Heyman had the confidence to put me there at such a pivotal time in the company's history. It was a great honor and was some of the best work I ever did.
GMs: In all honesty, I loved ECW. It was different. The style, the interviews, the grainy footage, and the not exactly sure when it's on…That's what made it special.
JC: It was what grunge was to music. Nirvana came out and punched everyone in the face. And that's what ECW did for the wrestling business. It was a time of bad gimmicks and I was one of them. ECW went completely the other way. It was gritty and the music was a big part of it. We did some really interesting and controversial things and I think that's why it succeeded.
GMs: Now, regardless of WWE, ECW, WCW, you do not become a headliner without support from the company, immense work ethic, and talent. Can you describe the commitment needed to do what you have done?
JC: It's all encompassing. It's draining. It's mental preparation, physical preparation, you're away from home all the time, and your mind is always in the business. You're constantly preparing ten steps ahead. That's not even including the actual business part of it. You're your own boss and have to handle your own bookings. Some had agents, but for the most part you're running your own show. It was very daunting and overwhelming at times. It takes 100 percent commitment.
Back in our day it was like the Sunset Strip in the 80's. It was all party. Nowadays, it's a good thing, but guys are sober and concentrate more on their health. It's night and day.
GMs: I recently heard and I had no idea, that the Kliq everyone talks about (Triple H, X-Pac, Shawn Michaels, Kevin Nash/Diesel, Scott Hall/Razor Ramon) also included you.  Why is that such an unknown?
JC: I was there the whole time. Paul (Triple H) and I used to travel together with Chyna. I started traveling with Scott Hall in my infancy because I couldn't rent a car during the Aldo Montoya days. It was never an on-screen thing and I didn't need to talk about it.
GMs: The top guys stay in the business for years, but you read a lot about wrestlers passing at a premature age, or some with such debilitating injuries that they can't even live a normal life. That has to be tough to deal with?
JC: It's very easy to get caught in a trap. Wrestling is unlike any other business. You see a lot on the road and things many people on the outside don't understand. Our job in to put on a show, but that leads to a lot of pain physically, mentally, and emotionally. Injuries pile up and it's a very risky deal.
Anytime you go out on the road away from your family doing what we do, you're on your own with the pay cheque, credit card, and I.D. to board the next plan to the next town. It's very lonely and easy to get trapped especially if you're dealing with mental illness, depression, or anxiety.
People tend to romanticize your lifestyle, but there's only a few people you want to be with and that's your wife and your kids. All the adoration is awesome, but you want to come home at the end of the day. It's an all or nothing business and takes a lifelong commitment. It's unfortunate because some people I've gone out on the road with haven't come back. Anytime you play this game it's a component of it whether it's lesser or greater than it used to be.
GMs: The industry has changed and has come full circle. It's got back to that family atmosphere, and its rare that the matches that were so common in the late 90's/early 2000's, come close to the same type of flair.
What are your thoughts on the industry today?
JC: I really don't think the industry has changed. I believe it's actually much harder. I understand the audience is more PG-13 oriented, but these guys are working a stronger style. In some ways the stuff we did in ECW that looked so extreme wasn't so extreme compared to the strong style they're working today.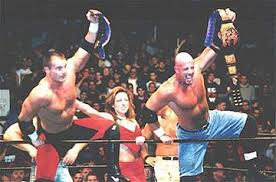 GMs: What were the differences between ECW and WWE? And what kind of impact do you think ECW had on the business? You can actually still hear E-C-DUB chants to this day.
JC: It's great. It still gets you. It was a special thing and that legend will live forever. Fans discover it everyday. Sooner or later that adult oriented style will become viable again at some point. What ECW did was cool. It combined hardrock with violence when wrestling wasn't cool. The Sandman wouldn't be the Sandman without that song. Rob Van Dam and myself are synonymous with our tunes, and of course Tommy Dreamer with Man in the Box.
GMs: From what I've seen and read, you appear to be very open with your substance abuse. Are you able to expand on how that can about?
JC: I was, for many years, a drug addict. I basically took any kind of pain pill or pill that I could. For many years it wasn't a problem until I didn't have any. I started to feel sick and couldn't understand why. It didn't compute that my body was physically addicted to the medication. I did become addicted to opioids when I left WWE. Doctors became smart to pain pill addiction and the business and it became very difficult to retrieve what I needed. It was a fortune to obtain them illegally so I turned to heroin, which was a much cheaper alternative. I was a user for many years until I got clean and sober in 2012.
Later on I thought it was a good idea to have a drink. Alcohol was never my thing, that's why I took pills. At first nothing happens. You have a couple and the world doesn't explode. I wouldn't have one for a day or so, but those days run closer and closer and drinks get more and more. You can understand where that leads to. I was a full blown alcoholic. You don't feel as dirty as when you put a needle in your arm as it does to go to the bar.
I'm sober today. I've been sober for a couple of months. Unfortunately, I relapsed during the documentary. We had a shift in the creative process during filming and I took on too much.
GMs: One thing about being so open, is that you never know who is reading this and who you are helping. That's got to be very special when you sit back and think about that?
JC: If it helps anybody that's awesome. I'm just a regular person who happens to be a wrestler who did some cool things. By no means am I a poster boy, but I'm on the journey just as many others are. I'm a work in progress. When you put it out there, there are no fears. You can't make fun of me, you can't say anything. There's no skeleton's. I'm doing the best I can and keeping it honest.
GMs: Your documentary "Credible" will be released soon. Can you tell us more about that and why you would expose yourself to the world?
JC: It started very controversially. I was drunk at a show in December in Connecticut and the clip went viral. A contact of some producers got in touch with Dallas Page to get a hold of me. At the time I was already back on the wagon, but I figured I could use the money. With the changes that occurred, and me taking on additional responsibility, it was a tonne to take on during my recovery.
I'm good today and in a very positive place. It's all about how you handle your problems. Dallas Page said that to me all the time. 90 percent of what happens to you is what it is. The other 10 percent is irrelevant. It's how you handle what's around you.
GMs: To get where you are today and to help you through the tough times, you must have a great support system. Is there anything you want to say to those that have stuck by you?
JC: I couldn't have done this without the support of WWE. They took care of my treatment and my aftercare. The WWE Wellness Policy is top notch. I know Paul handles a lot of that, and regardless of politics, they saved my life.
At the end of the day it's your wife and your kids and I am so blessed to have them. That's what matters the most.