The Minnesota Twins, who made a valiant run toward the 2015 playoffs, hope to have found a diamond in the rough. The Can-Am League announced early last week that the Twins signed the league's Most Valuable Player, catcher Joe Maloney to a minor league contract.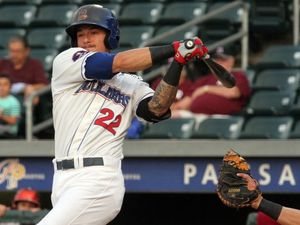 Originally drafted by the Texas Rangers in the 10th round of the 2011 MLB June Amateur Draft from Limestone College, Maloney spent three years in the Rangers organization peaking at High A, Myrtle Beach. He hit 21 home runs over the course of 184 games and drove in 101. His career .221 average is hardly conducive to the talent he possesses.
After the Rangers released him in January of 2014, he began his Indy league journey and had the greatest statistical season of his career until he blew those numbers out of the water this year. Maloney had career highs in nearly every offensive category and led the Boulders in average (.337) and RBI (83) which were also good for second in the league in both categories. The impressive numbers don't end there. His .559 slugging percentage and 50 extra-base hits were good for first in the league and his 14 home runs were good enough for fourth. Maloney was named Can-Am Player of the Week three times and Player of the Month for June.
Substantial increases in almost every category will get the attention of any scout. And becoming league MVP in your second season will only validate their reasoning for the contract. The Twins signing a five-year veteran out of Independent baseball will not drum up many headlines, but for people who love underdog stories, chalk this up to another great chapter.