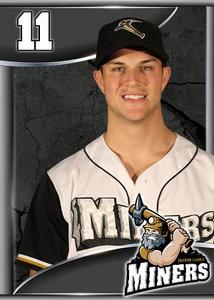 Shane Kennedy couldn't have asked for a better first year of professional baseball.
On Wednesday, the Minnesota Twins signed the undrafted Indy player after he won Rookie of the Year and led the league in hitting with a .363 batting average. He also led the Miners with 24 doubles and 34 stolen bases (second in the league).
Kennedy, who originally signed with the Chicago Cubs in 2015 as a free agent, was released after spring training. In all honesty, that might have been the best thing to happen to him. Coming in undrafted, the odds really are stacked against you. Unless you really light up the stat sheet, priority will be placed with the top picks of the organization. Miners manager Mike Pinto couldn't say enough good things about this ex-Clemson Tiger upon the conclusion of an historic season.
"Shane had an extraordinary season for us," Miners manager Mike Pinto said. "The fact that he was not only the Rookie of the Year but the batting champion for the league as well says all that is needed to be said about his abilities. His daily hard work and game effort to go with strong skills could take him a long way in the Twins system. He is still young, and can grow within their organization. This is a tremendous opportunity for him and our entire staff wishes him great success."
There is nothing but positives from this transition. The Twins get a diamond in the rough and Kennedy gets another opportunity to show that independent players have what it takes to be successful at the next level.