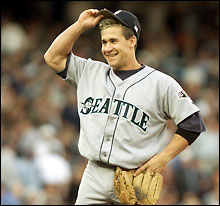 The Victoria Seals are having an all-star offseason so to speak.
While first year manager Darrell Evans was terminated, the Seals did not take long in finding his replacement.
The Seals hired former all-star second baseman Bret Boone to lead the club into the 2010 season.
Everyone is familiar with Boone's accomplishments;
4-time Gold Glove award winner
3-time All-Star
2-time Seattle Mariners MVP (2001, 2003)
Cincinnati Reds MVP (1998)
AL RBI Leader; 141 (2001)
252 career home runs
1021 career RBI
Impressive indeed, but there is one little known fact that many baseball fans may not know.
This is not the first time Boone has had a connection to the Seals organization and team president Darren Parker.
Boone was a member of the AAA Calgary Cannons, a club owned by current part-owner Russ Parker.  Darren Parker, who, mentioned above is the current club's president, was working in the organizations' promotions department.
Looks like things have come full circle!
As we all know, any good field manager needs a great support team to succeed; when in doubt hire a former major league pitcher and a GBL All-Star with ties to college powerhouse UCLA.
Kip Wells has six years of MLB experience, and compiled a career 7-8 record with a 3.90 ERA in 73 appearances.  Gross also led the Nippon Ham Fighters, formerly of the Japanese League, in wins during the mid '90s (1995, 1996).
Along side Gross will be 2009 GBL All-Star catcher, Josh Arhart.
Arhart who has put together quite the baseball resume since his days hitting .365 with the Bruins, will take on dual duties as assistant coach and catcher.
The Seals, who finished the 2009 season in the basement of the North Division, have only one direction to go; up.
With an MLB All-Star in control of this team on the field, and the reigning Executive of the Year in the office, it appears the Seals are looking like the surprise club of 2010, and can I say, worst to first!
Devon Teeple is an author for the Business of Sports Network, which includes the Biz of Baseball, the Biz of  Football, the Biz of Basketball and the Biz of Hockey.   He is a former professional baseball player with the River City Rascals & Gateway Grizzlies. Devon is also available for hire or freelance opportunities.
Devon is a former student within Sports Management Worldwide's Baseball General Manager Class. Devon is the founder of The GM's Perspective and is a intern with The Football Outsiders and contributor with the Plymouth River Eels.
Currently, Devon is a Branch Manager at a financial institution in Southern Ontario Canada.  He can be reached at devon@thegmsperspective.com , thegmsperspective@yahoo.com or devon@businessofsportsnetwork.com
Follow The GM's Perspective on