Jake The Snake Roberts was one of the top WWE superstars of all-time. His ability to work a crowd and tell a story is legendary. But, Roberts battled drug and alcohol addiction for years. Diamond Dallas Page, who was mentored by Roberts early in his wrestling career, was a master of the squared circle and three-time WCW World Heavyweight Champion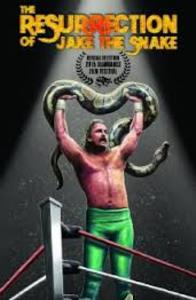 Both have taken different paths in life. After all these years fate has brought them together one more time, not to win a belt or headline a Pay Per View, but to save Roberts' life.
After watching the documentary, "Resurrection of Jake The Snake", it gave me a better of understanding of the human spirit, not just from the standpoint of helping people changes their lives, but how sport; the art of wrestling and the business can build a bond that can never be broken.
The GM's Perspective: For the fans out there unfamiliar with your background, how did you get involved in the lives of these two wrestling legends.
Steve Yu: I was kind of lucky to have access. Basically, I was working with Dallas for approximately eight or nine years with inspirational projects, videos, and helping him with DDP Yoga. This was something that came up about three years ago when Dallas mentioned that he talked to Jake. I thought it would be an interesting opportunity to help Jake and also tell a real positive story.
Diamond Dallas Page: I have to interject here. Jake was living up here, looking to buy a house in Atlanta. It was said that if he was he was living with me, imagine the kind of results he would get. We lived together 20 years ago and it ended when he released a 12-foot black cobra in my house. We started thinking about the environment he was in and what it would be like if he stayed with me.
Jake The Snake Roberts: Environment was key. I don't think I would've made it if I styed at home. Change of environment was very big and to be held accountable daily was very big. If I were still living in Texas I wouldn't have done it.
GMs: You have been one of the most recognizable entertainers the industry has ever seen, but had some very public struggles. Did you think when this film began that your life would change so drastically?
JR: Absolutely not. Seriously, I gave myself two to three weeks before I got booted. I didn't think I could go cold turkey off of cocaine. You have to realize, I was doing an 8 ball of cocaine everyday and drinking. To put two guys together who are full of testosterone, how is that going to work? When you start coming off all the drugs you get pretty angry and start lashing out. You say things you don't mean. It takes someone with a thick skin and it takes somebody who is willing to suffer through that with me.
DDP: He suffered, I made sure of that.
GMs: Just watching the film, you witness this bond that develops between all three of you. You weren't going to let anyone fail at any point, and that is very obvious and clear throughout. If I can see that, everyone else can too.
JR: It's unbelievable knowing someone would go as far as they did (Dallas). For him to take the chance of putting a junkie and a drunk in there and not expect problems is unreal.  I would assume they expected some problems, but it could've been a lot worse. Thank God they weren't. He stuck with it. I'm not going to say I enjoyed it, cause I didn't. There was a lot of pain involved. There was time where we didn't see eye to eye on what road we should take to try and keep me clean. The 90 meetings were pretty tough. I had to swallow my pride and shut up and do what I was told. I had to shut up and let someone else drive. I'd wrecked my life so it was time to let someone else take the wheel and Dallas was there to do it.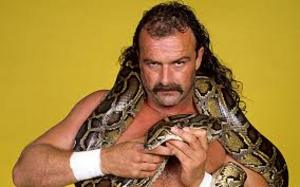 GMs: Just as Mr. Roberts, you have been on top of the wrestling world for years, both known to millions of fans, did you ever think that once your career was done that DDP Yoga would be such a life changing product.
DDP: Five years ago I was talking to Brian Alvarez on his radio show and he said where will you be five years from now? I said, honestly, YRG Fitness (now DDP Yoga) will overshadow my wrestling career. He said, "dude, that's a bold statement". In the 90's I was one of the hottest guys in the world at the time.
Without Dusty Rhodes there is no Diamond Dallas Page, without Jake Roberts, there is no three-time world champion, no main event guy. Jake did a lot to help me and went out of his way at times. He never really told me you need to do this, this, and this. He would talk to me to a certain degree and make me figure it out. When I did, he would always tell me about it. One of the highlights of my wrestling career was in 1997. Everything was just jiving so well. Jake had called me up and he only said one word, "Congratulations". I said for what? He said, "for reinventing the DDT". Jake's move was the move of the 80's. The Diamond Cutter was the move of the 90's and if you look where Randy (Orton) has taken the RKO, it's still a cool move.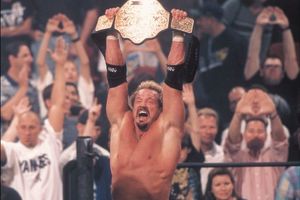 GMs: I've been a fan of the industry for years and watched you while I was growing up. Watching the movie really affected me. You only ever see the in-ring action, but never see the behind the scenes activity. You never really get to see the person outside of the ring.
I was watching with the film with my wife, who was never a lifelong follower of the business, but knew the main characters. When she sat down and watched, the tears were flowing at the end. The movie will touch people and what the three of you have done is something special. People that are battling demons can watch this and see that there is a light at the end of the tunnel.
DDP: I could see that when Steve put this together, the journey was so long and we had so much unbelievable footage, I could see him putting together a nine-hour film. I sure as hell couldn't see him putting this together for a 90-minute feature. It's a story of redemption. One of our buddies is sitting here, a guy name Mozer, and when I told him what we're doing, he said "Oh my gosh dude, this could be the Resurrection of Jake the Snake". I said, "This is the name of the movie".
GMs: Mr. Yu, you've seen lives change for the better. Was this how you had it all planned or was most of this off the cuff and reactive?
SU: The initial idea of the film was always, can we show Jake what was possible? In turn, can we show everyone what's possible no matter what situation you're in in life you could turn your life around? That was kind of the hypothesis when we started the movie, but we had no idea where it would go. There were many times throughout the production when we didn't think it was ever going to get done.
Obviously, when looking back, the struggle is what makes it such an impactful film, but as we're going through it, we have all these obstacles. You think you're never going to finish it.
DDP: Jake went up and down a lot to get where he is today. I don't know this Jake Roberts. His mind is back. He's such an amazing talent in the business. He can just look at someone and critique him or her in an instant. But, there was times when Steve and I would look at each other and be so dejected thinking if anyone was ever going to see this movie.
We never stopped filming, but we did put it on the shelf for a while. That's when I saw Jake make his biggest transformation. Jake is a very smart guy. His understanding that this is it and his last shot was key to the film and its completion.
JR: The biggest thing that I walked away with was a new compassion for everyone. There was a new calmness about me. Before there was always a rage underneath me and I was angry and full of shame. I had self-acceptance now. I'm just loving life, man. I've never loved life and I've never loved Jake. I love Jake now and he's a pretty cool cat.
GMs: Mr. Roberts, you seen and done everything, you are in the WWE Hall of Fame and now they've made a movie about you. What's next for Jake the Snake?
JR: I'll tell you this, IT'S HUGE.
DDP: Life begins at 60. That's going to be a book that I'm going to do about people and their journey. And Jake will be one of those people.
JR: There's so much available for me right now. I'm doing stand up and I'm having a blast doing that. Movie parts are coming up also. In the next three or four weeks, many things will start to open up. Keep up to date while following @JakeSnakeDDT and it's going to blow your mind.
DDP: Anyone who wants to know what's going on with The Resurrection of Jake The Snake, please checkout jakethesnakemovie.com and register or subscribe. That's where you'll get updates. It might not be in your town or your country, but it's going to come to the world. If the fans come out and support this it's great. AMC and Regal have taken a chance and given us a week in New York City, in Culver City, in Chicago, Nashville, and Chattanooga.
If they sign up and subscribe they'll know when it's coming to their town and when it's getting released on DVD which is where we can really add most of the nine hours of footage.
JR: Some of these cities are going to be Q and A. Check it out and see when we'll be in your town. If you're there, let's shake a hand.