Corey Hirsch was an NHL goalie for eight years from 1992-1993 until 2002-2003. In his first full season, he was named to the NHL All-Rookie Team posting a 17-14 record with a 2.93 GAA. In all, he played in over 100 games recording 34 wins against 45 losses with a 3.13 GAA and racking up four shutouts. Hirsch helped lead Canada to a silver medal at the 1994 Olympics and was part of the bronze medal squad at the 1995 World Championships.
A top-notch career was nearly permanently derailed when he almost drove his car off a cliff in 1994. Unbeknownst to others, Hirsch was dealing with anxiety, depression and obsessive compulsive disorder, while trying to maintain his position as one of the best goaltenders in the world.
This past February, Hirsch and The Player's Tribune published his story about mental illness and his journey to where he is today. The GM's Perspective had the opportunity to speak with him about how he made it through and how he is now an advocate to others going through the same type of struggle.
The GM's Perspective: Your essay on The Player's Tribune was extremely personal and drummed up a lot of emotion, not only for me but I'm sure for countless others. Why did you decide now to be so open about your mental health struggles?
Corey Hirsch: I've always known it's something I wanted to do. From the times I was in my bed at my worst not wanting to go on, I always promised myself that if I ever did get through it I would do something about it. I can remember going to bookstores and looking anywhere for success stories that told me I wasn't doomed and this wasn't going to be the rest of my life. It was disheartening because I couldn't find any. So I promised myself that if I did become successful and I got through it I would put something out there. 20 years later I'm in a good place and I'm healthy and strong and feel like I've accomplished quite a bit at this point and hopefully I can still accomplish more.
People need to hear my story and hear that they're not doomed to a life of depression or obsessive compulsive disorder. They need to hear that they can be like me or Clara Hughes or Michael Landsberg or Theo Fleury. You can be a success.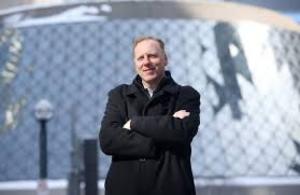 Photo courtesy Vince Talotta/Toronto Star
GMs: What's the response been to your story? I can't begin to think how many people you touched with it.
CH: It's been ridiculously overwhelming. People hide in stigma and shame with mental health issues. If people knew the love and support that I've gotten through this, you would never ever be ashamed again of having a mental health issue.
We all know somebody. We all have a family member. Maybe it's ourselves personally. The statistics are out there; it's one in four people, but nobody wants to talk about it because they're scared.
GMs: Have any of your former teammates reached out to you since you published?
CH: Oh yes, especially the ones that I played with that had no idea. We suffer in silence. You don't want your friends and family to know. You're ashamed of it, there's stigma, there's all sorts of things so you suffer in silence.
A lot of the responses were extremely sad because they wish they could've helped me and wish they would've known. That tells me right there; why was I hiding it from these people? This was 20 years ago, but they all wish they knew I was hurting so that they could've helped me and would've never let me get to that place. It's been good.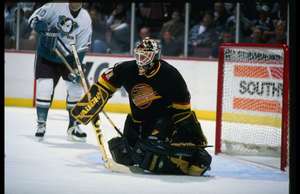 GMs: I remember speaking with Clint Malarchuk a few months back about what he dealt with as a NHL goalie and he said something that really hit home. In a positive spin to OCD, something I have dealt with for years, he said OCD has been good to him in a lots of ways; work ethic and the drive to be the best. Did it affect you the same way?
CH: It definitely is a reason why I was good at what I did. There's something about it, the anxiety level rises and the adrenaline that you get from it…But as much as it helped me, it also hurt me in the end.
GMs: Once you were diagnosed you weren't magically better. Is there a support system you put in place or someone to call when you might be having a day more difficult than others?
CH: I have my therapist here in Phoenix and I still connect with my old therapists if I need to. I have a support group, but it's no different than me having a doctor. We look at it like "oh he's got a therapist", but it's no different than having a family doctor. You get a cold, you go see the doctor.
That's how I would like us to start looking at mental health. Because it's exactly that.
GMs: You've been at the top of the world as a professional hockey player but you've also dealt with things that you kept hidden for years. If you had to do it all over again, would you change anything? Or, did you go through all of this so someone else wouldn't?
CH: I would've come out with my story a helluva lot sooner. I don't think I'd change anything as a player (I didn't know what was going on). Knowing how the response has been and how many people have told me that I've given them hope and kept them from doing something stupid, my story would have come out years earlier.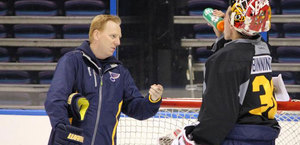 Photo courtesy Corey Hirsch
GMs: If there's one message you could give to those who are in a dark, dark place as you called it, what would it be?
CH: Suicide is a permanent solution to a temporary problem. It's not easy but you can go get help and lead a successful life. The word I want to spread is early diagnosis. If I talked about it, I would've got diagnosed and said "oh, this is that OCD thing that people talk about, go to the doctor and get help."
I'd be so much better off, but I dug a hole for years and I had to dig out of that hole. With early diagnosis, you'll never get to that place I got to.