The Long Island Ducks' Reegie Corona became the ninth Duck to be signed by a Major League or foreign organization this year. Corona was signed to a minor league contract by the Washington Nationals, according to a Ducks press release.
Corona, who has been in the game for over ten years, is no stranger to the opportunity he's been given.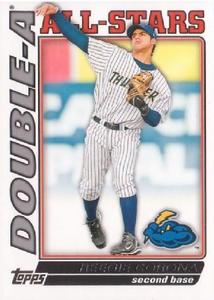 He's played in nearly 900 games, the majority coming within the New York Yankees organization. He began his career at 17 with the Yankees Gulf Coast League team and perpetually climbed the ladder, including three separate stints at Triple A. Not really known for his power, Corona has 148 stolen bases in 181 career attempts and has made three All-Star appearances (2006, 2007, 2009) at various levels of play.
2015 was a coming out party for Corona. Yes he's been in the game for many years, but he reinvented himself on the diamond. A career .262 hitter with a .683 OPS, this utility man extraordinaire exceeded those and many more bests with flying colors. His .331 batting average is second in the league to only Lew Ford (.364). His 45 runs scored also ranks third in the league while ranking third in triples (5), fourth in hits (85). And according to the Ducks, he comes in third in the league in OPS (.386) and fifth in slugging (.455).
Still only 28 years old, and putting up the best numbers of his life, there is not telling how far he can go from here. Just as Ducks President/GM stated, Corona has played outstanding baseball and deserves this opportunity.
"Reegie stepped into the second base role right away this season and has played outstanding baseball," says Ducks President/GM Michael Pfaff. "He is certainly deserving of this opportunity, and we wish him the best of luck with the Nationals organization."
In four games since joining the Nationals Double-A squad, he's batting .429 with three doubles and three RBI.