In 2016, international cricket player Kieran Powell made national and global headlines when he was attempting to transition to pro baseball.
Powell had individual tryouts with the Milwaukee Brewers and New York Mets and was seen by several other MLB scouts in a highly publicized tryout; unfortunately, he didn't sign a pro contract. Yet, the skills, training and the understanding of another sport are attributes you can never discount.
I was able to catch up with Powell and discuss the time he spent learning the game, his current aspirations, and how he's able to perform at such a high level on a consistent basis.
The GM's Perspective: Kieran, it's been a few years since we talked about your aspirations to play Major League Baseball. I know you had multiple tryouts, (Mets/Brewers). How was that experience?
Kieran Powell: It was great. Personally, it gave me perspective on sports on a whole different level and an idea of all the opportunities you get from sports. It was a great time and an experience I can take back to the game of cricket after being around the game.
GMs: Anything specific relating to techniques that you took away?
KP: In terms of takeaways, being able to generate more power in certain shots and allowing me to drive the ball further. I've also utilized some training techniques that I've used in the gym to gather more strength (arm, swing) during this process which has helped me elevate my game.
GM's: What was the reaction when you went back home. Were people/teammates full of questions?
KP: People were excited, very inquisitive and wanted to know what the entire experience was like. They were also interested in training methods and what techniques would be transferable. It's funny now, because everytime we travel (regardless of where in the world), our opponents seem more interested in asking me about baseball than actually playing cricket! It's an absolute positive experience all around and wherever we play

GMs: You're very active on social media with 217,000 plus followers on Twitter and 116,000 plus on Instagram. If people are following you, they've been privy to some cryptic/exciting messages about pre-production activities. Can you elaborate about what you have going on?! Or can you…
KP: My beautiful wife came up with an idea a couple of years ago. It's been something I've been helping her with and we're going to be launching within the next three months. I can't exactly give it away, but it's an online business and we received a very favourable valuation earlier today!
I'm so happy for her and all the hard work she's put in to this. Those are just some of the ventures we're working on outside of cricket. Though we're international athletes, we have lives away from the sport.
GMs: You are one of the best cricket players in the world and staying on top of your game means always evolving and never staying still. How do you stay on top of your game and what can you take from your time in pro ball?
KP: That's something that's personal to each person. You have to find motivation from within. You need that fire and I think that's what all successful athletes have from a young age.
I've wanted to play cricket since I was eight years old. And now at 28, I'm still hungry for more information and looking for more ways to improve myself. It's just a matter of always wanting to be a better player every single day. By seeking out new methods and advice I can maximize my skill and talents and never doubt that I gave it all I could during my career.
I also recently captained one of our international men's teams (the West Indies A team) and we won every single game against the England Lions team, apart from the last game so it was a thrilling feeling to win so emphatically under my leadership.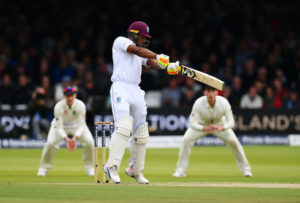 GMs: What advice can you give people who may not be as confident chasing a dream? You did what you had to do to be successful. But in the long run, you raised your profile as an athlete and the game of cricket, but probably motivated many to get out of their comfort zone?
KP: It doesn't matter if a million people believe in you or you're the only one, your dream is the most important thing you can have. Don't let anyone tell you otherwise. That's why God gave us the ability to dream as individuals. Whether awake or asleep, we all at some point have the capability to go beyond our limitations.
Always go after what you want to achieve. Never give up and never doubt yourself. Always put in the hard work and surround yourself with the right people and positive influences. At some point in time it will pay off.
*Photo courtesy Kieran Powell and Dan Mullan/Getty Images Europe