Ricky Romero's release as a member of the Toronto Blue Jays is not the end, but only the beginning.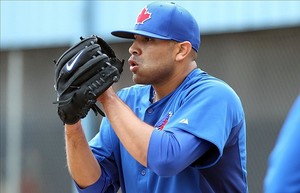 I look at it this way. If Scott Kazmir, who was in dire straits and left for dead by the baseball world, can come back and again be considered one of the most effective left-handed pitchers in the game. Romero, who's had a couple rocky years, is in no way done with the game of baseball.
Alex Anthopoulos said what he should, and in all honesty, was pretty vague on any of the details, but what could you really say. All in all it seems everyone parted ways amicably, this according to The Globe and Mail,
"We made the determination we just didn't think by the end of the year he was going to be able to factor for us up here," general manager Alex Anthopoulos said. "We felt it was best just to give him the opportunity to get a head start somewhere else. It was the right thing for him."
The former All-Star and ace of the Blue Jays staff is really in the best spot possible. With expectations of his return gone, he can regroup, get healthy, and leave Toronto in the rear-view mirror. He's getting paid, as the Jays remain on the hook for his $7.5 million salary, which also includes $600,000 for 2016, so really there is no pressure. Very easy for me to say. I can only imagine what he is dealing with. But, again I look at Scott Kazmir's resurgence.
Kazmir battled through independent baseball and a stint in Puerto Rico before he even got a sniff of interest. Romero is in the drivers seat right now. At 30 years old, he is now where near done. Yes, his velocity has dipped a few MPH, but chalk that up to injuries. Whether or not he returns to the mound this year, that's not the issue. He can rehab and train at his own pace, regroup mentally, and return for 2016 in the best shape of his life. There is absolutely no way a team doesn't pick up a guy, who has at the very least, five solid years of elite level baseball left.
Confidence breeds success. Once Romero gets back on the mound and has a couple good outings, the swag will return.