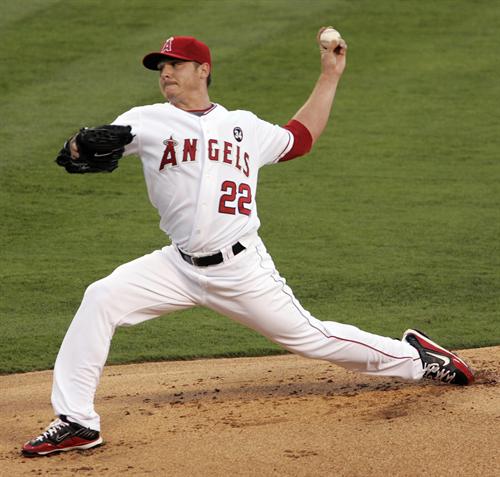 It appears that Scott Kazmir has reached a crossroads in the 2010 season.
I have been following Kazmir's season since spring training, discussing the up's and down's, and documenting his progression.  Unfortunately, this time around all the positives have turned into disappointment for, I'm sure, management, the fans, and undoubtedly, himself.
After four starts in mid-June, he went 4 – 0 with a 2.34 ERA.  All signs pointed to a return to the Kazmir of old.
Since his June 24 start against the Los Angeles Dodgers, those numbers have taken an ugly nosedive.
In his four starts since then, Kazmir has gone 0 – 4, and has given up 30 runs in less than 20 innings, more specifically, an ERA of 13.73.
More disturbing was Kazmir's last start on July 10, against the light-hitting Oakland Athletics.
Kazmir's line;
5 innings pitched, 11 hits, 13 runs, 13 earned runs, 3 HR, 3 BB, 2 SO
If that does not destroy one's confidence, I just read in an article on the Los Angeles Times website that the 13 earned runs is the most ever given up by a starters in the club's history.  The last starting pitcher to give up 13 was Jason Marquis "against the Chicago White Sox on June 21, 2006, as a member of the St. Louis Cardinals".
Midway through the 2010 his fastball is a averaging a touch over 90 mph (90.5), yet there is still a concern at how much he is throwing it.
His fastball is being thrown more the 70 percent of the time, while his slider, thrown sparingly (12.7 percent), has also seen a reduction in velocity, down 4 mph since 2006.
Whether it is the velocity, the pitch type or a combination of both, it is now a legitimate possibly that Kazmir could lose not only his spot in the rotation, but also his roster spot with the Angels.
With the All-Star Game on the horizon, Kazmir and the second place Angels have some time to regroup, relax and possibly come up with a contingency plan.
Could the bullpen be a solution, maybe a lefty specialist in the late innings?
It is an idea, but upon inspection, lefty-specialist may not be in the cards.  Against lefties this year, Kazmir has only three strikeouts,  and has given up 23 hits in 17 innings.  To make matters worse, a .319 average against does not help his cause.
It will be interesting to see what does happen after the all-star break, but after this recent string of appearances, I am unsure of how many more times the Angels can afford to let Kazmir hit the field until a suitable solution can be found.
Devon Teeple is an author for the Business of Sports Network, which includes the Biz of Baseball, the Biz of  Football, the Biz of Basketball and the Biz of Hockey.   He is a former professional baseball player with the River City Rascals & Gateway Grizzlies. Devon is also available for hire or freelance opportunities.
Devon is a former student within Sports Management Worldwide's Baseball General Manager Class. Devon is the founder of The GM's Perspective and is a intern with The Football Outsiders and contributor with the Plymouth River Eels.
Currently, Devon is a Branch Manager at a financial institution in Southern Ontario Canada.  He can be reached at devon@thegmsperspective.com , thegmsperspective@yahoo.com or devon@businessofsportsnetwork.com
Follow The GM's Perspective on