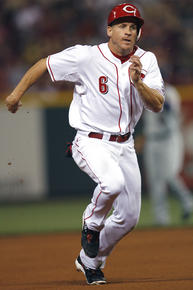 Ryan Freel, who played nearly 600 MLB games, recently signed with the Somerset Patriots of the Independent Atlantic League.
Freel put together a career  .268 average with over 500 hits and 140 stolen bases in eight MLB seasons.
Freel's most productive years came in the mid '90s with the Cincinnati Reds.
Specifically, '04 through '06 showcased his  innate ability to "get the job done"; he had a  .286 average, 76 RBI, 175 base on balls, with 110 stolen bases.
"It's not often you have a player with Ryan's Major League time available. We feel that his significant experience makes our lineup tremendous from top to bottom. We are excited to see him on our roster this season," said Patrick McVerry, President/General Manager of the Somerset Patriots Baseball Club.
Devon Teeple is an author for the Business of Sports Network, which includes the Biz of Baseball, the Biz of  Football, the Biz of Basketball and the Biz of Hockey.   He is a former professional baseball player with the River City Rascals & Gateway Grizzlies. Devon is also available for hire or freelance opportunities.
Devon is a former student within Sports Management Worldwide's Baseball General Manager Class. Devon is the founder of The GM's Perspective and is a intern with The Football Outsiders and contributor with the Plymouth River Eels.
Currently, Devon is a Branch Manager at a financial institution in Southern Ontario Canada.  He can be reached at devon@thegmsperspective.com , thegmsperspective@yahoo.com or devon@businessofsportsnetwork.com
Follow The GM's Perspective on