Former Toronto Blue Jays prospect Eric Thames is destroying baseballs on an epic level. Drafted in the 7th round of the 2008 MLB Amateur Draft, he climbed the ladder on his way to the big league level at an accelerated rate, solidifying his ranking as Baseball America's #15 rated prospect in the PCL.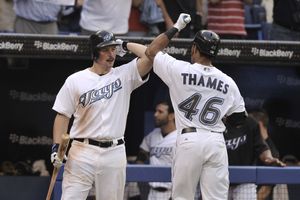 Once promoted to the Jays' MLB roster, he battled another highly touted Jays prospect in Travis Snider for one of the remaining outfield spots. Unfortunately, neither performed up to the lofty expectations set in front of them. Both were traded prior to the end of the 2012 season. Since, Thames has spent time in the Seattle Mariners and Houston Astros minor league organizations doing what he always does; produce.
Major League pitching is another story. Thames has a career .309 MiLB batting average, .250 in the majors. He fell in to that dreaded 4-A category; a player who dominates at Triple A, but falters when called up to the 25 or 40 man roster. It remains a mystery as to why certain players excel at the highest level, but their game doesn't translate over when they take that next step.
The Jays, and many other teams, have had a myriad of players who would benefit from that Quad-A category (Snider, Eddie Zosky). Yet, there isn't one single thing that would make you think Thames couldn't perform. The numbers with the Blue Jays and Mariners is only a small sample size and doesn't reflect his ability. And regardless of what his short MLB experience tells you, he can flat out play.
After his release from the Astros organization in 2013, Thames' career took him overseas to the NC Dinos of the Korean Baseball Organization. To put it mildy, Thames is dominating pitching and that's an understatement. In 2014, he hit 37 home runs to go with 121 RBI while batting .347. His OPS was a staggering 1.111. What could he do for an encore? How about 2015 KBO MVP. The numbers were shocking and his production increased in nearly every category. His batting average was pushing .400 (.381) and he belted 47 big flies (you can see each one here), drove in 140, stole 40 bases (up from 11) and walked over 110 times. Even more impressive, which is hard to believe, was his Bonds like OBP of .497 and Ruthian slugging of .790.
There's no doubt that Thames has come in to his own. Being able to play everyday without worrying about a position or spot in the line-up allows you to focus on the game and the game alone.. He's proven he's got all the tools to be successful. At 29 years old, and in the prime of his career, it would be a surprise if he's not on a MLB roster come the end of the season.