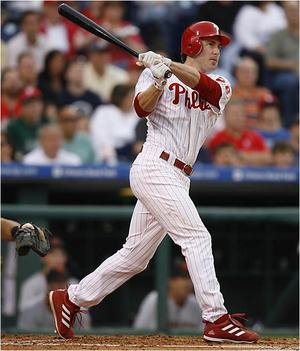 Baseball has taken many hits in recent years; Steroids,  HGH, and the strike of 94′ that, no doubt is in the back of everyone's mind.
It is rare when the good in sports get the front page.
More often than not, it is a suspension, or a press conference for a reason other than a former All-Star retiring after the end of a brilliant career.
Chase Utley, the four-time All-Star second baseman for the Philadelphia Phillies, has teamed with Citizens Bank, once again launching the Helping Hands glove donation program.  The program is meant to assist children who play in the Philadelphia Phillies Jr. RBI League.
According to "The Mercury", new or used gloves will be collected throughout the 2010 season at Citizens Bank kiosk in "Ashburn Alley" (Citizens Bank Park) to benefit participants in the RBI League that are 12 and under.
"Citizens Bank has been supporting the Phillies Jr. RBI League since 2002 and we believe the partnership plays a vital role in helping inner-city children who want to play baseball," said Daniel K. Fitzpatrick, Citizens Bank president and CEO for Pennsylvania, New Jersey and Delaware.
This is not the only "extracurricular" activity that Utley has taken part in.
If you visit the official Chase Utley website, you can catch a glimpse of Chase Utley, the person, in action.
Utley is not only a part of the RBI Program but is supporter of Pennsylvania Society for the Prevention of Cruelty to Animals.  Couple that with his involvement in the Philadelphia Futures, a mentoring program for inner city high school students, that has raised nearly $300,000 in the past couple of seasons, proves that Utley can use his celebrity for the greater good so to speak.
Being a lifelong Atlanta Braves fans, the Phillies are on my list of teams I dislike.  This time I will give you a pass!
Kudos to you Mr. Utley for being one of the good guys.
Devon Teeple is an author for the Business of Sports Network, which includes the Biz of Baseball, the Biz of  Football, the Biz of Basketball and the Biz of Hockey.   He is a former professional baseball player with the River City Rascals & Gateway Grizzlies. Devon is also available for hire or freelance opportunities.
Devon is a former student within Sports Management Worldwide's Baseball General Manager Class. Devon is the founder of The GM's Perspective and is a intern with The Football Outsiders and contributor with the Plymouth River Eels.
Currently, Devon is a Branch Manager at a financial institution in Southern Ontario Canada.  He can be reached at devon@thegmsperspective.com , thegmsperspective@yahoo.com or devon@businessofsportsnetwork.com
Follow The GM's Perspective on