Álex "El Samurai" Cabrera signs with the Wingnuts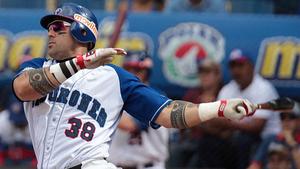 Internationally, Álex Cabrera is is one of the most dangerous hitters in recent memory. Cabrera started his career back in 1991 at 19. His stint in Wichita will be his first baseball in America since he donned the Arizona Diamondbacks uniform in 2000. In his 31 MLB games, he batted .263 with 5 home runs and 14 RBI. According to the American Association, in his first MLB at bat he hit a home run. When you take a look at his minor league numbers they're as good as anyone's. In 2000, the same year he made his major league debut, he split time between RK, AA, and AAA. In 76 games, El Samurai batted .353 with 39 home runs and drove in 94. He slugged .851 and posted a 1.251 OPS. After his run with the D-Backs, Cabrera spent 12 seasons in Japan playing for three different clubs. Oursportscentral.com reports that Cabrera, who is entering his 22nd year in professional baseball, has hit over 450 home runs, driven in over 1,270 and amassed 1,861 hits.
O's sign Goldeyes Haerther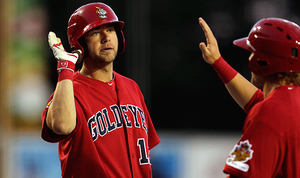 The American Association announced that the Baltimore Orioles have signed Winnipeg Goldeyes slugger, Casey Haerther. Haerther, who is entering his seventh professional season, was originally drafted by the LA Angels in the 5th round of the 2009 MLB June Amateur Draft from University of California. His first four years were spent in the Angels minor league system. He eventually made it up to Double A in 2012. In his four years with the Angles, he hit .298. After having spent the last two years with the Independent Goldeyes, Haerther is getting a second chance at affiliated ball. In his first year with Winnipeg, Haerther hit a healthy .307 with 10 home runs and 66 RBI in 97 games. 2014 would eventually be his coming out party. He tied for the team lead in average (.360), also good for second in the league, and his 72 RBI were second on the team (seventh in the league).