Independent baseball never ceases to amaze. They don't get the credit they deserve for the product they put on the field, hundreds of their players have taken it to the next level, and their promotions will give any marketing company a run for their money.
The York Revolution aren't any different. Founded in 2006, York has been one of the best teams in all of Independent baseball claiming the league championship twice (2010, 2011). Not only are they a success on the field, but also at the turnstile. The Revolution average nearly 4,000 per game and were one of only three Atlantic League teams that saw an increase in attendance over the 2013 numbers (13,325).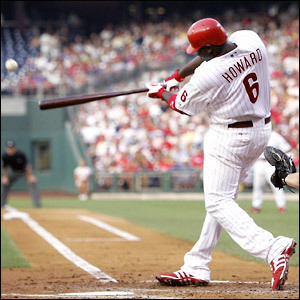 It wasn't long ago that Ryan Howard was considered elite. He was one of the best first basemen in the game rivalling Albert Pujols as one of the most feared hitters in all of baseball. Ryan burst on to the scene in his third year with the Phillies, putting up MVP numbers: 58 home runs, 149 RBI, and batting .313 with a Ruthian 1.084 OPS. Over the next three years, Howard topped 140 RBI twice and never hit less than 45 big flies.
That was 2009. Come 2015, Howard is a dead man walking. In his first full season since 2011, the power isn't what it used to be (23 home runs), his .223 average is the second lowest of his career, and he struck out a league leading 190 times. All numbers are trending down, and at age 35 and $60 million remaining on his contract, the Phillies aren't shy about wanting him gone.
According to the NBC Sports, the Phillies are offering to pay $50 million of the last $60 million remaining on his contract. That's where the Revolution come in! Just play along. York is looking to raise enough funds to bring Howard to York. If they fall short, 83% of the funds raised will be given to Penn-Mar Human Services. The maximum league salary is $3,000, leaving them $9,999,997 short of the ultimate prize. General Manager John Gibson said if York County's 400,000 or so residents chipped in $25 they would be close to having to having the necessary funds to trade for Howard.
Whatever it takes right? Of course this will never happen, but look at them now. More people know who the York Revolution are than ever before.