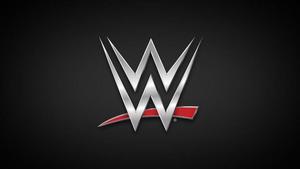 In World Wrestling Entertainment (WWE) personalities, not just athleticism, drive the business. From Hulk Hogan, the Rock, Stone Cold Steve Austin, John Cena, these "public" figures are larger than life.
Wrestlemania 32 is set for later tonight and the festivities will be in full throttle. Their yearly Hall of Fame induction ceremony that featured Sting, The Godfather, The Fabulous Freebirds, Big Bossman, Jacqueline, Stan Hansen, Joan Lunden, and Snoop Dogg is amongst the highlights of this star-studded weekend. Aside from the glitz and the glamour, what gets lost is the outstanding work in the community and dedication to social responsibility.
For those who think WWE is all about show is completely wrong. Cena, the Hulk Hogan of this generation, has gone above and beyond what one would expect a superstar to do. To think that Cena, a main eventer who is on the road for nearly the entire year, could do more than expected is a an understatement. In all, the WWE has granted over 6,000 wishes with the Make-A-Wish Foundation. Their relationship began in the early 1980's when the Hulkster became the most requested. Since, over 50 superstars have participated. Cena's work with the Foundation is the stuff of legend. He was the first athlete ever to grant 500 wishes. In addition to his 500th wish, which was granted in August of 2015, WWE chief brand officer Stephanie McMahon made a $1 million commitment to Make-A-Wish. Cena, who has the fame, glory, and all the accolades that come with being the top performer in the industry, understands that it's more than championships, it's about helping people in their time of need.
"I want them to have an experience that will stay with them to forever," Cena said. "I don't ever want the children or their families to be treated in a way where they feel as if they're up against anything at all."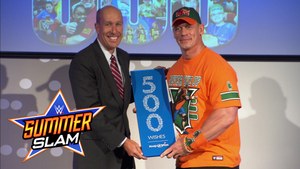 For over a decade, the WWE has been a staunch supporter of the US Armed Forces. WWE Tribute For The Troops has been their way of honoring the men and women who serve to protect their country on a daily basis. In early November of 2014, WWE Smackdown profiled veteran Dan Rose. Rose was a in the Army Reserves for over 10 years. He served in support of Operation Enduring Freedom in Afghanistan until he was injured by an Improvised Explosive Device in 2011 that left him paralyzed from the chest down. Rose was able to walk again with the unbelievable support of SoldierSocks, an Ekso Bionics GT™ robotic exoskeleton suit that enables individuals with paralysis to stand up and walk. According to the WWE they want "To share our strength with the brave men and women of the United States Armed Forces both at home and abroad through programs that boost morale for soldiers in the field, offer free entertainment for active military at home, and provide workforce assistance for veterans."
Joan Lunden was honored at the WWE Hall of Fame ceremony last night. You might ask yourself, what does Lunden, a American journalist, author and television host have to do with wrestling? In 2014 Lunden was diagnosed with breast cancer. She was the recipient of the second annual Warrior Award. According to a recent WWE press release, "The award is given to someone who has exhibited unwavering strength and perseverance, and who lives life with the courage and compassion that embodies the indomitable spirit of WWE Hall of Famer The Ultimate Warrior." WWE's Connor's Cure is another example of how a company, best known for its high flying aerobics and sensationalism, can use their reach and touch countless lives. Paul Levesque, better known as The Game, Triple H, along with his wife Stephanie McMahon, created Connor's Cure as a way to honor the life and spirit of Connor Michalek, a Pittsburgh native and lifelong WWE fan who passed away from cancer. Since its inception, Connor's Cure has raised over $1 million and has helped the lives of countless families in the process.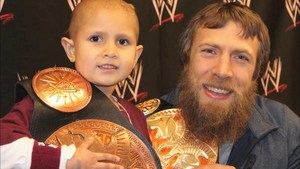 In a sport where violence is the norm, we must realize that it's entertainment. No one is meant to get hurt, but in the ring people do. Injuries can happen just as in any sport. These athletes are putting their bodies on the line day in day out to put smiles on the faces of those in attendance and watching at home. Despite what happens in the ring, WWE is at the forefront of standing against bullying and violence. Partnering with the Boys & Girls Clubs of America, DoSomething.org, GLAAD, Athlete Ally, The You Can Play Project and Champions Against Bullying (to name a few), the WWE wants to ensure people are treated fairly. Everyone should be accepted for who they are. WWE's diversity description says it all: "To break down prejudices and promote a culture of fairness and respect through programs and initiatives that educate, enrich, and empower people to create a positive social environment for all, regardless of age, race, religion, sexual orientation, or physical ability." 
Superstar Titus O'Neil played collegiate football for the Florida Gators and professionally in the Arena Football League; a superior athlete and even better person. O'Neil provided an essay to The Player's Tribune describing his own upbringing and what fatherhood means to him. It really is a special read and allows you to understand what family means to him. In an unprecedented act of kindness, O'Neil took a group of homeless people for lunch. When asked about it, his focus was on everyone being treated equal, regardless of his or her situation.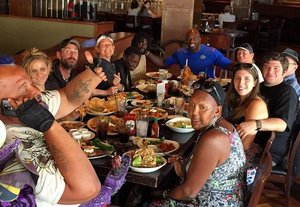 "I'm gathering homeless people to take them out to eat at @yardhouse last night I did the same thing and the manager seemed distant in Serving the two last night so I said instead of just posting I'll gather more and eat lunch with them at that Restaurant. They need to learn how to treat All humans as such. #ContentOfCharacter #AllLivesMatter"
WWE and the wrestling industry is fascinating. Undoubtedly, these masters of the squared circle are the best in the world at what they do. Triple H said it best, "I've got the body, I've got the ability, I've got the talent, and I've got the brains. A superstar in the ring needs the total package and It's few a far between when one can cross over into the mainstream. When they do, they use all of their reach to go beyond anyone's expectations.