Less Than Jake has been in the music biz for over 22 years. Their style of music can be classified as a mix of Punk, Ska and Reggae. While that caters to a wide variety of generations and people, it's rarely if ever heard on the radio. Unless you specifically search out punk stations on satellite radio, it's almost entirely non-existent.
The punk culture is fascinating. The music is passionate, political, high-energy, fun, and can vary between Hardcore, Pop Punk, Skate, Ska, and Melodic. But one thing that all these artists have in common is the love of music and putting on the best performances they can for their fans. Punk is not radio friendly, yet these bands, many of them who have been around for the past 30 years, continue to travel around the world, performing in venues where every single person, regardless of status, race and religion, can sing every song word for word. The atmosphere is like no other with every fan listening to a band that means the world to them.
Originally formed in 1992, Less Than Jake has been putting out music that, not only the fans love, but they love as well. The band continues to be interactive with their fans in person and in cyberspace, and I think that's what separates them from the rest. The bands dedication to their craft and their willingness to pursue their musical dream is very commendable and inspiring for up and coming musicians, and for acts that have been doing this for years.
Less Than Jake performed at Crocks in Thunder Bay on October 16, 2014 with The Interrupters and Big D and the Kids Table and put on high-energy, fast-paced performance. Prior to the show I had the opportunity to speak with frontman, Chris Demakes. The conversation tackles a broad range of questions, more importantly, Less Than Jake is a band that has a very dedicated following. Not as popular as the mainstream performers that are here today gone tomorrow, they have stood the test of time and can reach another generation of fans through their latest tour.
Please check out some of their performance from that night by clicking here.
The GM's Perspective: How is Canada treating you so far on this leg of the tour?
Chris Demakes: Canada is treating us as it always has-completely awesome! It's a great vibe up here.
GMs: You've been doing this for a long time; over 22 years. Music in general, has definitely changed. You are playing the music that you love, but it doesn't necessarily fit into today's radio friendly target market. How does your band continue to evolve and stay relevant when the landscape consistently changes?
CD: I think at this point in our career, we stay relevant by not being relevant. Relevant is a term that is thrown around as a good word. Relevant is good, but just because you're a pop icon that's hot for six months, and can't sell a record after that, doesn't mean your relevant. For us, we keep doing what we've always done. We take our live show to our fans. We try to release music, first and foremost for ourselves. We try to keep it as real as we can. We appreciate what we have.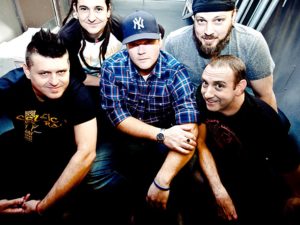 GMs: They style of music you play, in my eyes, seems to be making a resurgence. Bands like the Implants are making waves, and bands that haven't produced anything in a while are back at it. Do you think the style of music you play can be brought back to the forefront, perhaps by a younger generation of bands listening to you or the bands you are currently touring with?
CD: Absolutely. Punk and Ska is a very youthful kind of music. If you play our stuff for someone over the age of 25, they might think, even on the new Less Than Jake record, it sounds dated and sounds like the 90's. We've had kids come out to Warped Tour this summer (13/14 year old kids) that tell us they've listened to our new record and had no idea that we've been a band for this long. They thought we were a new band. It's fresh for a young kid. Depending on what perspective you come from will change your answer on that one.
GMs: Over 20 years as a band is an amazing accomplishment in today's age. What's the biggest change now from the time you guys first started performing?
CD: The biggest change has been the way we communicate as humans, through technology. The shows are same feeling we had when I first started! Cramming a bunch of sweaty people into a room and playing loud music. The technology has made it, in a lot of ways, easier and in a lot ways, more difficult.
GMs: CD's have are going the way of dinosaur. It has to be difficult, but you guys have persevered and more thank likely, had to make huge sacrifices along the way with touring and doing what you do. Is touring as glamorous as people make it out to be, or is it more of a job at this point in your career?
CD: We've always had the idea that this was our job, even when we were young. When you're younger, just like anything else in life, things you see and do the first time, there's a certain excitement that comes with that. It's different. Do we still like it? Ya. I love it in a lot of ways more now than I ever did when I was younger. Things like not drinking yourself to death every night. When you're younger you do those things. Now I get up and I feel good, and I can walk places and take pictures and exercise. We still love what we do, it's good times.
GMs: You don't hear a lot of people say that anymore. You love what you do and at that point it's not a job anymore. You go day in day out doing your thing.
CD: Your right. There's days when it sucks and you're running a 101-degree temperature, and have the flu. But we've never cancelled a show in 22 years. We've got on stage with strep throat, broken bones, you name it, we've done it.
GMs: Being a musician, you're well aware that certain songs or albums can really affect people. What's it like when you're on stage and the crowd goes nuts and singing right along with you?
CD: It's amazing. You've connected with people who are like-minded. Most people that we've talked to and played to, are regular joe's, man. They're good people out to have a good time, and that's the kind of energy we bring to the stage.
GMs: With professional athletics, no one can play forever. It's a fact of life. Music is different. What do you see in the future for Less Than Jake and personally, when you're away form the band, what keeps you busy?
CD: I'm doing some solo stuff. I'm going on my third tour at the end of December. The project is called "Let's Go Solo". I go out and play tiny little bars and have a good time. I've also been working on producing some songs for a friend of mine. When I'm not doing that, the band takes up all of my time.
**Originally published 10/18/14**