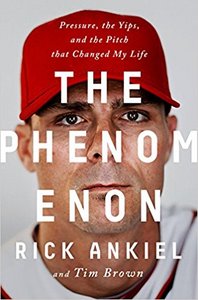 To fully understand the scope of what Rick Ankiel's dealt with, you have to read his new book; The Phenomenon.
Ankiel was the poster boy of what a left-handed pitcher should be. Throwing gas from the left-side with a hook so nasty that it could make any established hitter question why he stepped into the batter's box that day.
Game 1 of the 2000 NLDS changed the course of Ankiel's career forever. Up 6-0 against Greg Maddux and the Atlanta Braves, a wild pitch to Andruw Jones set in motion a perfect storm that no one saw coming. Looking from the outside, you never really comprehend what's going on in the mind of a professional athlete. Ankiel's book delves into those tough questions he had to ask himself.
From dealing with personal and physical abuse, self-medicating to get through a game, and dealing with the Yips; the unexplained unrelenting loss of the ability to do something you've done your whole life, Ankiel will bring to life a career that many would say was cut short, but a career that I would say was historic.
The GM's Perspective: You touch on so many things in your story; abuse (physical, personal), drugs, alcohol, and physical and mental performance…Putting pen to paper, was it in anyway therapeutic to get your story out in the open?
Rick Ankiel: It has been since I've been doing all the interviews about the book release. When I was writing it I found it was easy to go back and find out who I was when I was younger. Everybody creates this image in your mind of who you are are, but now, you go back and interview people who were around you in your life and they tell you what they thought of you at that age. That was a cool thing. Not only that, but a lot of the personal stuff from my dysfunctional childhood, and to understand what I went through to where I am now, is something I'm very proud of.
GMs: Mr. Ankiel, I have to tell you, I read your book in one afternoon. Coming from a sports background, I completely understand where you were coming from. But an outsider could pick this up and feel your angst. Did you go in with the mindset that any and everyone who picked this up (not just athletes) would be fascinated with the read and feel/understand what athletes go through?
RA: I think you really have to credit Tim Brown. I think he did an amazing job of helping the readers feel and understand what I was going through. That says something about his writing and how he's able to do that. The ups and downs of life and the rollercoaster of life that we all go through, that's what this book can help you understand. It's more than just a baseball book. I've got letters from people from all different walks of life and they tell me they went through something similar. Hearing others tell me that it's really helped them is very rewarding.
GMs: What kind of response have you received since the release?
RA: It's been great. The best part is when somebody tells me they're struggling and my story inspired them. You really begin to understand that you're helping somebody else. I definitely understand that. As you read in the book, I've been there and been through tough times. I understand during those tough times how dark and ugly it could be.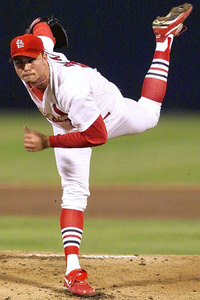 GMs: There's no other profession where you go to work and can get criticized in front of the whole world and are expected to go back out in that same environment the very next day and deal with it.  Do you think people truly recognize, not just what you went through on the field (good and bad), but what any professional athlete deals with day-to-day?
RA: I'm not sure they do. What most people see is the dollar signs and say, "well you're supposed to deal with that?" I understand where they're coming from, but it relates to all jobs. Whether you're an athlete or not, you have stress and have to perform and produce at all levels. Everyone goes through this.
GMs: There's no doubt you never wanted any of what happened against the Atlanta Braves during Game 1 of the 2000 NLDS. Alternatively, the struggles you faced and what you did to overcome them (in my eyes, you overcame any and all adversity) have probably helped countless others in similar situations…
RA: I hope so. I hope I could inspire others and help them deal with what they're going through. When I was going through my stuff, there were other stories that I paid attention to that helped me. It helps you get through that daily grind and make it to the next day and the next day. You try to keep that perspective.
GMs: Babe Ruth and Rick Ankiel will always be mentioned in the same sentence? Pretty amazing if you ask me…
RA: Being the baseball fan that I am, and to be mentioned in the same sentence as the Babe, is certainly special. I won't get tired of hearing it.
GMs: You were a life coach with the Washington Nationals in 2015. What did/does that entail?
RA: I enjoyed it and it was a nice way to give back to the younger guys and give them advice on, not only what I went through off the field, but what I went through on the field. In addition, I tried helping them understand expectations. Sometimes you won't always meet them. Most of the guys are coming from high school and college where they've dominated at that level. Now they're at pro ball and the playing field is a little more even and a lot cases other players are better than you are. You'll hit roadblocks to get where you need to go.
It was rewarding to help them understand that, now I work for Fox Sports Midwest as a studio sports analyst. It's something new and am really enjoying pursuing this new career.
GMs: How do you want people to remember Rick Ankiel? Athlete or Advocate?
RA: A WINNER!
*Photo courtesy NBC sports**