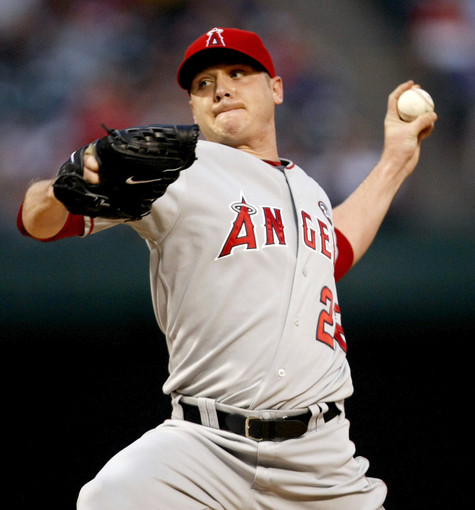 The new baseball season has not been kind to Scott Kazmir.
After beginning the season on the DL, his first start of the season came against the defending champion, New York Yankees.
Previously I wrote there was a possibility that Kazmir, once so hyped, full of potential, had reached his athletic peak.
There comes a point in one's career when you realize that it will not get any easier, the struggles will continue and all the promise once talked about, is no longer.
If Kazmir's first start is any indication, the end may be closer than expected, or at least a successful stint in Los Angeles might be.
His outing against the Yankees was anything but memorable.
Four innings, eight hits, and six earned runs equals a 13.50 earned run average.
Anyone's first start coming off the DL will be a struggle, this might have well contributed to those numbers.  Combine that with an unfinished spring, and getting torched in your first outing is highly probable.
There are underlying factors that I believe are contributing to his  recent decline.
His velocity during that start was lower than one would expect.
Kazmir's fastball peaked at just over 90 mph (90.4), a 0.7 mph reduction from last season, less 3 mph from 2004.
It is not just that pitch that has been affected, his slider came in at a sluggish 79 mph, well off '09's pace.
His injuries have depleted a once devastating slider, basically leaving him to fend off the "Bronx Bombers" with fastballs and change-ups.
Not the best way to go.
Touched up for three home runs, lefties are hitting .625 against him, and 10 of the 18 batters he faced reached base, leaving little to the imagination.
There is one piece of information that does reflect a positive throughout all the negative; seven ground ball outs compared to three in the air.
His fastball may not have the same zip, his slider does need some work, except when analyzing the data, it breaks down to location.
Any pitcher will get burned when you leave the ball up, though Kazmir has been around long enough, should know that when some of the magic is lost, improvise.
At 26 years old, six MLB seasons under his belt, it might not be a bad idea to begin the transformation into to that crafty lefty that frustrates hitters, making them hit their pitch into the ground and not the bleachers.
Hitting 90 on the gun is always a plus, on the contrary, so is well placed 86 mph fastball two inches off the black.
Devon Teeple is an author for the Business of Sports Network, which includes the Biz of Baseball, the Biz of  Football, the Biz of Basketball and the Biz of Hockey.   He is a former professional baseball player with the River City Rascals & Gateway Grizzlies. Devon is also available for hire or freelance opportunities.
Devon is a former student within Sports Management Worldwide's Baseball General Manager Class. Devon is the founder of The GM's Perspective and is a intern with The Football Outsiders and contributor with the Plymouth River Eels.
Currently, Devon is a Branch Manager at a financial institution in Southern Ontario Canada.  He can be reached at devon@thegmsperspective.com , thegmsperspective@yahoo.com or devon@businessofsportsnetwork.com
Follow The GM's Perspective on