The 2015 baseball season is on the horizon and the outlook for all 30 teams is sky high. In addition, we're getting new fresh gear from Tommy Bahama.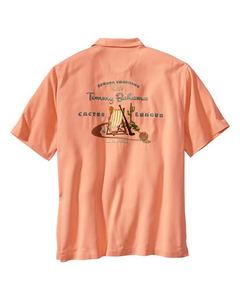 The new and up and coming Tommy Bahama 2015 MLB Spring Training shirts for both the Cactus and Grapefruit Leagues are now available in two different styles – the classic silk camp shirt and a long sleeve cotton t-shirt. Spring Training means a new beginning and the new spring lineup captures that sort of spirit with their signature style with a "relax in the park" graphic embroidered on the back.
There are not many companies so in touch with the game as Tommy Bahama. Their passion and the quality of their product is second to none, hence, why they continue to be a front-runner in the MLB apparel game. Whether its MLB legends like Mickey Mantle, Willie Mays or the promotion of yearly All-Star festivities, when Tommy Bahama launches their next line, you know it's for one specific reason.
The 2015 MLB Collection will capture the heart and imagination of any fan. For more information, please check out their new items here. And when their next line of authentic MLB wear becomes available, you can bet that we will have all the information you need.