Everyone loves a strikeout, even the Oakland Athletics. The Athletics are in full rebuild mode so why not get an "unknown" powerful arm.
In what is becoming a regular occurrence for the Fargo-Moorhead RedHawks, another one of their players has been signed to a minor league contract with an MLB organization. Brandon Mann became the 65th RedHawks player to ink a minor league deal when the Athletics purchased his contract early last week.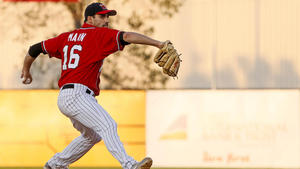 Mann was originally drafted by the Tampa Bay Devil Rays in the 27th round of the 2002 MLB June Amateur Draft and spent most of his career within their minor league system. Mann has been around the block. The game is no stranger to this 12-year veteran with over 1,100 innings under his belt. In nine MiLB seasons, his numbers aren't eye-popping but are very workable. In 196 appearances between rookie ball and high A, he's recorded 38 wins to go with 56 losses. A career 4.45 ERA is not too shabby, either is his 599 strikeouts.
In addition, this ex-Ray, ex-Los Angeles Dodger and ex-Pittsburgh Pirate has experience abroad participating in two seasons in the Japan Central League. There's no doubt Mann has talent and the independent league is the perfect platform to prove it. After being released by the Altoona Curve midway through the 2014 season, Mann spent the remainder of the year with the Lancaster Barnstormers where he averaged nearly nine SO/9.
2015 was a whole other story, one for the record books. According to the American Association, Mann recorded 157 strikeouts in 143.2 innings pitched breaking the previous record of 144. Seven wins and 10 losses isn't why he got signed. He got signed because his arm is electric, posting nine strikeouts in eight of his starts. Not only did he set an Association K record, he also set or tied franchise records for strikeouts, starts and innings pitched.
Mann may not be on the radar, but the Athletics have a guy that is determined, slings it from the leftside and has a history of getting people out. Seems like a pretty straightforward formula for success.