When Jose Bautista hit his epic three-run blast against the Texas Rangers in Game 5 of the 2015 ALDS, he pimped it so well, it's been called the greatest of all-time. The swing, the stare, the bat toss, and the strut. It was jaw-dropping, like something out of a video game. If he's on your team, you love it. If not, you hate it. The controversy, if any, is the baseball "code", an unwritten set of rules that every player who has played the game knows about. The rules range from not bunting against a pitcher who is throwing a no-hitter, not stealing when up by an exorbitant amount of runs, you bean my guy I bean yours, and of course, don't show up my pitcher.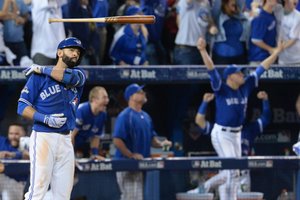 Showing up the pitcher is a no-no, but there are some players who are "allowed", so to speak, to get away with it. Whether it be their chase for history; Barry Bonds or players chasing career milestones; David Ortiz. Another unwritten rule applies to them. They have put in their time and have gotten a free pass. There are others who are not as fortunate, those who have well-established careers and have been in the game a long time, but don't have the same luxury.
Boastful, cocky and brash players simply aren't that well liked amongst opposing teams. Carlos Gomez is the epitome of a talented player who knows it, and when he takes the pitcher deep he's not afraid to celebrate. On more than one occasion Gomez has had run-ins with Brian McCann, then of the Atlanta Braves (view it here). McCann, obviously not a fan of his post-bomb celebration confronted him at home plate and all heck broke loose.
Could this type of reaction be avoided if Gomez puts his head down and runs? Of course, but it's a game filled with money, power, ego, and attitude. In the Bautista example, there's really no evidence to say that he was showing up the pitcher. It's once in a lifetime moment and the players have the right to be excited. Bautista's home run was something that no Blue Jays fan will ever forget. The bat flip that sent the Jays to their first AL Championship Series since 1993 was glorious, unfortunately, Texas Rangers' Sam Dyson had a different take.
"He's doing stuff that kids do in whiffle ball games and backyard baseball," Dyson told reporters. "It shouldn't be done."