Last night, 2003 National League CY Young winner, Eric Gagné took the hill for the Can-AM League's Trois-Riviéres Aigles. This was the first time he's toed the rubber since 2009 when he was a member of Les Capitales de Quebec. Gagne, part-owner of the Aigles, is best known for his stellar years as closer for the Los Angeles Dodgers. His best season came in 2003 when he recorded 55 saves (NL record), posted a 1.20 ERA, and held opponents to a .133 batting average.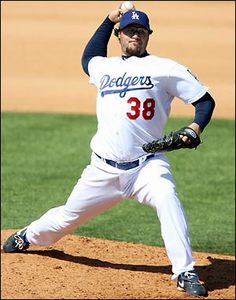 In front of 6,022 fans, Gagné didn't disappoint. The Montreal native went four and one-third and gave up one run on two hits. He struck out two while walking five. The Montreal Gazette reports that he topped out at 93 mph. Not too bad for someone pushing 40. Gagné confirmed after the game that this would be his last appearance.
Odds on this being Gagné's last appearance appear to be quite strong. His MLB career, fraught with accolades, has been mired in controversy after admittedly "taking human growth hormone over five cycles in a three-year period toward the end of his career", and claiming that 80 percent of his Dodger teammates were on some sort of performance enhancers. This might have been his swan song, one final appearance to end his career on a good note.
Gagné, being one of Canada's greatest ballplayers is also a big advocate of bringing the Montreal Expos back to the forefront. There is nothing concrete or in writing, but journaldemontreal.com said he's been in talks with potential investors.
"I would be very interested to invest in the project if ever Montreal was offered the chance to get back one day, a major league baseball franchise, said Gagné. I'll definitely get involved if the case continues to move forward. We can form a good group of Quebec investors, possibly supported by an American, would be able to provide the funding necessary to obtain a concession and build a stadium"
With the way the Toronto Blue Jays have ignited interest into thousands upon thousands of dormant Jays fans, this could be the start of something special. The Blue Jays back on top and Les Expos back in the mix. We could only be so lucky.