The Sugar Land Skeeters announced early last week that the Toronto Blue Jays have signed 6'0 right-handed pitcher, Derek Blacksher to a minor league contract. Blacksher, the eighth Sugar Land Skeeter to be signed by a Major League club this season, has joined the Jays' Single-A affiliate in Dunedin, Florida.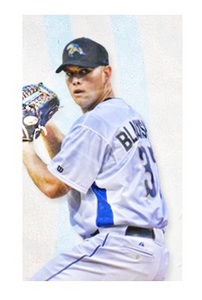 Originally drafted by the Florida Marlins in the 33rd round of the 2007 MLB June Amateur Draft, Blacksher has spent the majority of his nine-year career in the Independent Leagues. His brief stint in the Marlins organization lasted less than 30 innings. Eight years in Indy ball and four years in Foreign Winter Leagues has prepared him for this opportunity with the Blue Jays.
Statistically, 2015 was not Blacksher's best year on the books. He's topped double-digit wins multiple times in his career, but this season was one when he put everything together. In 70 innings, he went 5-3 with a 2.45 ERA, good for number one amongst Skeeter starters. The 2.1 BB9 was the second lowest of any of his Indy years and his SO9 (8.1) was the second highest in his career.
Blacksher is another example of how Independent baseball is not a career killer. It's the exact opposite. And he's no spring chicken. At 30 years old he could have easily packed it in. Toiling through various leagues all over the world, he continued to attempt to get better each and ever year. No team can ignore that.
August 19 marked his first start with the Dunedin Blue Jays. He did not disappoint. Despite getting saddled with the loss, he went a solid five innings, struck out six, walked one and surrendered only two runs.