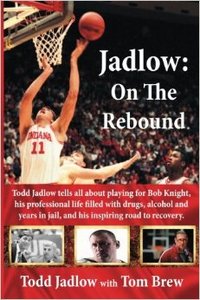 You'd think that being a champion at anything would be all that you could ask for. Unfortunately, that's not always the case.
Todd Jadlow played over 10 years of professional basketball and is widely known for being a part of the 1986-1987 Indiana Hoosiers basketball team that won the NCAA Championship under legendary coach Bobby Knight. He's experienced many highs and lows in his life. From the glory years at Indiana to battling drug and alcohol addiction, he's literally seen the worst that can happen if you let things get out of control.
He recently released a book called Jadlow: On The Rebound, It's a cautionary tale of what lies ahead if you make the wrong decisions. Not only can you hurt yourself, but you can hurt the ones you love the most.
Jadlow opened up to The GM's Perspective about his road from stardom to a point in his life where he only had one final choice to make.
The GM's Perspective: In your book, you brought to light some pretty frightening experiences of your time playing for Coach Knight specifically punched in the back of your head with a closed fist before a tournament game, hit over your head with a clipboard during a 1989 game and grabbed you so hard that he bruised your side.
Now, Knight is revered as a coaching legend, but after all that happened, do you regret your time at Indiana?
Todd Jadlow: No, not at all. What happened at Indiana occurred in a different era at a different time. I think it was a time of tough love, a time of discipline and a time of listening and understanding. It was certainly a different era than it is today, especially the way things were handled and the way things went on. But I certainly have no regrets whatsoever of winning a National Championship and two Big Ten titles. I don't think anyone would regret that by any means as well as playing for somebody as brilliant as coach Knight.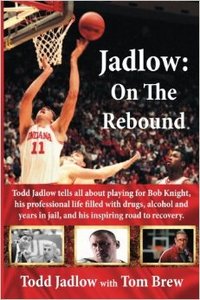 GMs: It has been said Knight thought of you as one of his favorite players and after Knight's firing you were quoted as saying "I don't know what I'm going to do with all my Indiana stuff. I'm sure not going to be wearing anything Indiana. For the first time in my life I'm ashamed to say that I'm a graduate of Indiana. I, personally, don't believe the two-faced (IU) administration… It's just sad the way things transpired. This is a guy (Knight) who should have a monument of him erected."
Has those thoughts changed after the release of your book and all the attention it has gathered recently?
TJ: Absolutely not. I still feel the exact same way. However, one thing has changed. Throughout my process of recovery, I've always had the issue with resentment. Part of me trying to move forward in life in a positive direction is being capable of understanding that all those people that had anything to do with the way coach Knights situation was handled, those people are all gone. Those people have been removed from Indiana and have no association with Indiana. It'd be in bad taste for me to hold these resentments personally and to hold this against a university that's given me the opportunity to get a first class education and the ability play on a stage with an elite basketball program that I've come to understand and respect.GMs: Most people don't know about your life after Indiana (the good and the bad). You played, if I'm not mistaken, over 10 years of professional basketball. What was that experience like?
TD: It's a completely other world. I think even more so today than it was when I played. You are treated differently in society and making insane amounts of money in comparison to what the average person makes. Basically you're an entertainer. My whole dream growing up was to be a professional athlete. I worked hard to achieve that dream and it's something I'm very proud of. It's a profession where they say less than half of one percent actually go on to become a professional. I think it shows a lot of hardwork. determination, and dedication to one skill or craft to get to that level along with God given ability to have the talent to play.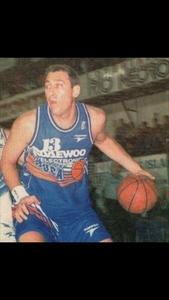 GMs: High profile collegiate and professional basketball, but you've also battled drugs and alcohol addiction. Was there any one point where you thought you had a handle on this or did "sometimes" become always?
TJ: For me it was more about a lifestyle. It was all about seeking pleasure; an adrenaline rush and having fun. I never thought I had a problem and that's the reality of it. My world came crashing down after getting those four DUI's in six months. Unfortunatley I never looked at it as a problem. I looked at it simply as a way of life of having fun. In retrospect, that's obviously wrong.
GMs: When was the moment you knew you had to change your life?
TJ: The obvious answer is when I got arrested on my fourth DUI which was the second one that day. I had my two-year old daughter with me in the car going down the highway at 121 mph. They pulled me over put me in jail and set no bond. Therefore, I couldn't get out at that point in time. I knew that i'd crossed some very severe lines and there was going to be some retribution. At that point I knew I had to change my life.
GMs: If you could do it all over again would you? Or is this how it was all meant to play out?
TJ: I firmly believe that everything happens for a reason and God has a plan for everybody. The way my story ended and the way my story began, and looking where I am now, is a blessing and a curse at the same time. Had I not went through what I went through, Lord knows where I'd be. I could've easily killed somebody, myself or one of my kids. Even though I went through some very trying times and spent almost two years incarcerated, I truly look back on it now as a blessing.
GMs: What are you doing now to help educate others who are struggling with their own demons?
TD: My main goal is working through my foundation (The Todd Jadlow Give It Back Foundation). I travel the country speaking at high schools, universities and various function where I share my story and open up about my past and being honest about my life. It's an opportunity to let people know they're not alone. No matter how bad it gets or how dark the times are, there truly is a way to rebound or a way to recover and change that path you're going on.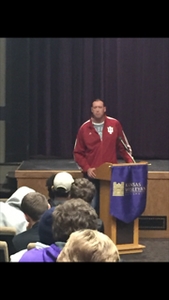 GMs: What you just said is a real eye opener. Of all the athletes I've spoken to that are dealing with things many may not understand, the underlying comment is "regardless of how bad things might be, there's always a light at the end of the tunnel".
TJ: It seems so simplistic, yet it takes almost tragedy happening for a person to get to that point where they think and they feel that way. Like I said before, when looking back, that was my situation. If those events didn't transpire the way they did, I don't know if I'd be here speaking with you today.
GMs: How can people reach out to you or follow you on social media?
TJ: You can follow me on facebook at the Todd Jadlow Give It Back Foundation, that's probably the best way. My twitter handle is @TJAY66 . We are also in the process of getting a website up and running. I also have a tonne of people, whether it be a adults or students, reaching out to me through my facebook page. I respond to each and every one. By me getting out it there and telling my story, the response I have gotten from individuals is amazing. Certainly, it becomes an open dialogue in a private setting because everything is between us and I can give them perspective. Anyone struggling, I urge them to reach out to me. I will respond within 24 hours. It's important for me to get my story out there to let people know that they're not alone. If I can help one person make a difference in their lives or possibly prevent them from going down the same path I went down, it's all worth it.