Rafael Palmeiro was once a Hall of Fame shoo in. After a steroid scandal nearly destroyed his career and all but ruined his chances at immortality, Palmeiro has taken the field one more time.
As reported by the Houston Chronicle this past Friday, the fifty-year-old Palmeiro took the field for the Independent Sugar Land Skeeters and went 2-4 with an RBI. Why is Palmeiro, a 20-year MLB veteran with over 500 home runs and 3,000 hits playing Indy ball? Because his son, Patrick is an infielder on the team. He signed a contract to suit up for the final three games so that they could play together. This is very reminiscent of when Roger Clemens, another sure fire HOF'er who dealt with scandal, took the mound for the Skeeters, while his son, Koby caught him.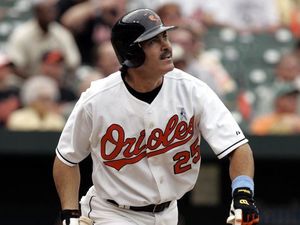 Palmeiro's son was originally drafted in the 22nd round of the 2008 MLB June Amateur Draft from Colleyville Heritage HS. He was in the Chicago White Sox minor league system from 2012 until 2014. In 190 games, he batted a collective .227 with 18 home runs and 92 RBI. The Great Falls Voyagers released him last October. Whether or not people look at this as a stunt, it's an amazing opportunity for father and son to share something that many often dream of. The odds of becoming his father are slim and the game has a ruthless history of weeding out those not living up to expectations. For the moment, that can wait. The Palmeiro family should cherish this moment on the diamond. These sorts of things happen once in a lifetime.
The younger Palmeiro does understand that baseball is a game of breaks. Sometimes things don't work out the way they should. Independent baseball shouldn't be looked at like a demotion, but a unique opportunity to get playing time to bolster your numbers and reputation. It's a process and anytime you can step on the field is a positive.
"When you are playing independent ball, you want to get picked up by a team. That is everyone's ultimate goal: to get to the major leagues," said Palmeiro, 25. "I'm going to do everything I can to help the team win. That is the first priority. But at the same time, I want to keep moving and progressing in my career."