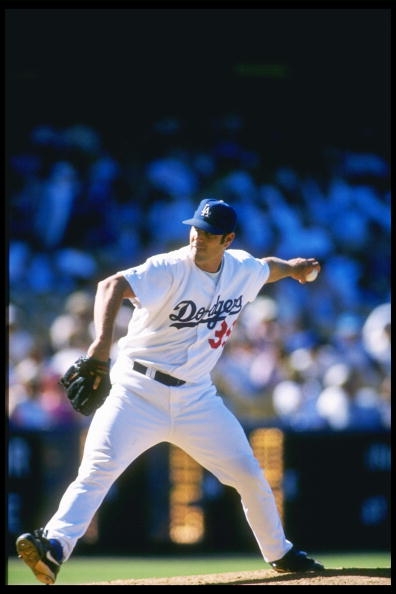 Bo Jackson, Deion Sanders, and Brian Jordan are well-known not only for their accomplishments in baseball but also football.
They are the most recent two-sport stars.
Little known to many in the sports world, Scott Radinsky, former Chicago White Sox, and Los Angeles Dodgers reliever from 1990  until 2001 was also a two-sport athlete, sort of.
Originally drafted in the third round of the 1986 draft by the Chicago White Sox, after putting up Stephen Strasburg type numbers following his senior season in high school; 14-1, 0.72 ERA, 180 strikeouts in 100⅓ innings, Radinsky, played four years in the minors until making his debut for the Sox in 1990.
At 6'3 and just under 200 lbs., Radinsky's time in the minors definitely deserved some notice, 187 innings, 64 earned runs, 186 strikeouts and an ERA of 3.07.
His best was just that.
While pitching for South Bend, the Sox single-A affiliate in 1989, Radinsky compiled a 7-5 record in 61 and 2/3 innings, struck out 83 while only walking 13 and posted a 1.75 ERA.  Oh I forgot, 31 saves!
Upon his promotion to the big club, he did not disappoint.
As a rookie in 1990, in a middle reliever type role, his 6-1 record in 62 appearances garnered him enough votes to take tenth place in American League Rookie of the Year voting.
Over the next ten seasons, Radinsky was as solid as any reliever was.
A 2.02 ERA in 1991, racking up 15 saves in 1992, leading the Sox relief corps, in wins with eight in 1993.
A true sign that a coach or a team has confidence in a middle relief / set up guy is the amount if times he is used, pretty obvious right?
Not only was Radinsky reliable, but he got the job done, and there was no doubt that at that time he was among the best at his craft.
Between 1993 and 1998, arguably the best years of his MLB career, Radinsky ranked second in the American League in appearances with 73 in 1993 and seventh with 75 in 1997.  His 1997 campaign is even more impressive as this was his second year as a Los Angeles Dodger.
A change from leagues is can be considered a benefit for any pitcher, especially moving to the pitcher friendly National League.
Five wins, a 2.41 ERA in 58 appearances is all the any manager could ask for, but to improve on a majority those stats the next season is the sign of a player who knows their role better than anyone does.
75 appearances in 1997, a paltry .236 batting average against with a two-to-one strikeout to walk ratio proved to be a great signing for the Dodgers who picked him up as a free agent after the '95 season.
Radinsky's second profession is possibly even more remarkable than his resume in the pros.
I would like to give a shout to my college baseball teammates Greig, Josh, Shane and Casey.
Without them and their influence on this small town Canadian, I might not even be cognizant to this information.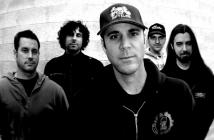 Scared Straight, Ten Foot Pole, and Pulley.  Southern California punk rock bands that Radinsky has been a member or the front man of.
While not being a professional baseball player, Radinsky was leading a revolution of sorts in the punk rock world.
With the boy band craze of the mid-to-late 90's, Pulley, his band with the most success, was headlining tours with Lagwagon, extensive tours of Europe, Canada, and appeared on the Vans Warped tour.
Categorized as Punk Revival and Skatepunk, Pulley was more of a secondary act for the members of the band until their last couple studio albums.  While associates of the band had jobs and the majority of the touring had to schedule its acts around Radinsky's baseball career, it quite astonishing the following that this "part-time" band generated since 1995, and as recently as 2009,  started its own record label; X-Members.
After serving as pitching coach in the Cleveland Indians Player Development System for the past six seasons and as pitching coach for the Buffalo Bisons and Columbus Clippers from 2006-2009, Radinsky has reached the Major Leagues again, this time as bullpen coach for the big club.
Do not get me wrong, despite having a full-time job with the Indians, punk rock and Pulley, will always be around.
In 1997, Radinsky was interview by Sports Illustrated.
Even back then, Radinsky could keep things in perspective.
His passion for the game and music has been in his system for his entire life, and if he has anything to do without, having fun and enjoying it will always be number one.
"I'm not going to sell out just for one more paycheck," he says with Sex Pistols righteousness. "If I get tired of all the rules, if those five minutes are not enough, if the phone rings in the bullpen and the coach tells another reliever to warm up and I don't mind, then it's time to walk away. I'll just go and join a men's league in Simi Valley and pay my $150."
Devon Teeple is an author for the Business of Sports Network, which includes the Biz of Baseball, the Biz of  Football, the Biz of Basketball and the Biz of Hockey.   He is a former professional baseball player with the River City Rascals & Gateway Grizzlies. Devon is also available for hire or freelance opportunities.
Devon is a former student within Sports Management Worldwide's Baseball General Manager Class. Devon is the founder of The GM's Perspective and is a intern with The Football Outsiders and contributor with the Plymouth River Eels.
Currently, Devon is a Branch Manager at a financial institution in Southern Ontario Canada.  He can be reached at devon@thegmsperspective.com , thegmsperspective@yahoo.com or devon@businessofsportsnetwork.com