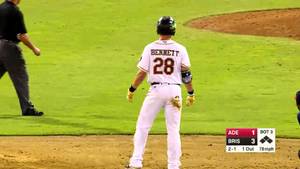 TJ Bennett is making the jump from Indy ball to affiliated ball. On Thursday, the Frontier League announced that the Schaumburg Boomers sold Bennett's contract to the San Francisco Giants.
Aside from getting drafted, there is no real conventional route to getting that elusive contract every baseball player hopes for. For Bennett, his story is one of kind, a journey that only he could make. Undrafted after four years of collegiate baseball, he faced an uphill battle that's not uncommon. He had to get from A to B via option F.
After spending the better part of two seasons in the independent Frontier League, (Gateway Grizzlies, Boomers) his numbers were par for the course, very similar to his production in college. Without the power stroke you would expect from a 6'3, 210 lbs. corner infielder, he excelled in other areas. With a career OBP in college of .385 and .360 professionally, Bennett has a knack to get on base. Combine that with an 87 percent stolen base success rate collegiately and 70 percent in the pros, he's a player that can do the little things properly.
His indy career might not have prospered the way he would've liked, but a summer playing ball for the Brisbane Bandits of the Australian Baseball League changed everything. His love for the game had waned, but he welcomed the necessary change. Sometimes all you need is a different perspective. According to Bennett, former Milwaukee Brewer and current Bandits manager, Dave Nilsson has created an environment where everyone can thrive.
"I was hoping for that (change). When baseball doesn't dictate my life, I am able to enjoy my life a lot more. In the past, it was when baseball was going well, then I was doing well in life.
"Dave Nilsson does a really good job at creating the right environment for the team."
That right environment helped produce some of the best numbers Bennett has ever had. Even though he played in only 19 games, he belted five home runs (a career high), drove in 12. He batted .313 with a .389 OBP and .688 SLG. Here
Bennett's a prime example of breaking the mould, again showing that nothing is impossible.