The New York Mets have signed Kansas City T-Bones infielder, Dylan Tice.
Tice, originally drafted by the St. Louis Cardinals in the 36th round of the 2015 MLB draft, spent the first two years of his career in their minor league system. But his best years, and where his talent has flourished, has been in the Independent Leagues (Rockland/Kansas City).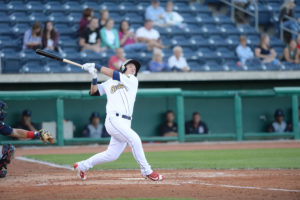 In 2017 as a member of the Rockland Boulders, Tice hit .327 good enough for 5th in the league. He was also in the top 10 in doubles with 23 and OBP (.412) Tice also tied for the league lead with 32 stolen bases.
Following his All-Star season, The Boulders traded Tice to the Sugar Land Skeeters. The trade was short lived. Prior to Spring Training, the Skeeters traded him to the T-Bones.
Fast forward to 2018, and it's much of the same for Tice. The power numbers aren't necessarily the same, (one home run, 17 doubles), but his OBP is at a career high at .428 and his batting average is also a career best .331.
It's been reported that the Mets have assigned Tice to Brooklyn and  if history is any guide, you can bet he'll be hitting just like he always does.